ProRodeo Hall of Fame announces 2018 induction class
Ashley Affleck-Johnson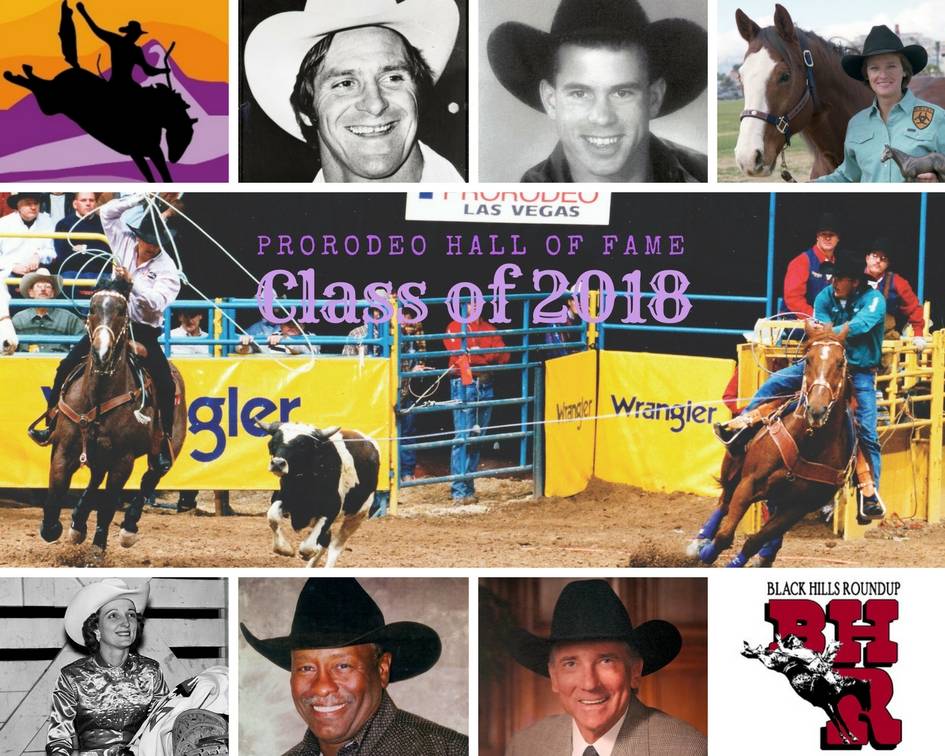 COLORADO SPRINGS, Colo. – Team roping stars Speed Williams and Rich Skelton had no equals from 1997-2004, as each won eight consecutive PRCA world championships.
Now, the duo will be immortalized in rodeo history.
Williams and Skelton headline the 10-member 2018 induction class for the ProRodeo Hall of Fame. The ceremony takes place Aug. 4 at the ProRodeo Hall of Fame in Colorado Springs, Colo.
Williams and Skelton join gold buckle-winner Deb Greenough (bareback riding, 1993), contract personnel recipient Leon Coffee, stock contractor Billy Minick, rodeo notable Walt Garrison and the committee for the Black Hills Roundup in Belle Fourche, S.D., as the PRCA inductees.
For the second time in the history of the ProRodeo Hall of Fame – 2017 being the first – barrel racers from the Women's Professional Rodeo Association (WPRA) will be among the class of inductees, and their class includes Kristie Peterson, Billie McBride and a WPRA equine inductee, French Flash Hawk (Bozo).
In addition to the 10 inductees, former PRCA Chief Operating Officer Kay Bleakly will receive the Ken Stemler Pioneer Award, which honors individuals in recognition of their groundbreaking, innovative ideas and forward thinking.
Williams and Skelton were the pinnacle of team roping for nearly a decade.
"I remember going to the high school finals and stopping in the ProRodeo Hall of Fame and I was blown away with the history of ProRodeo," Williams said. "It's a great honor to be inducted into the Hall of Fame. Rich and I had a fairytale career and words don't really describe how I'm feeling."
Skelton also was taken aback to receive this prestigious honor.
"This is cool, and I don't know when this will sink in," said Skelton, who still competes on the PRCA circuit. "I wanted to make the NFR and I wanted to win the world, and then things just kept going our way. When you look back at it, we had good horses, and everything was set up at that time and that's all we thought about and that's all we did was rope. To me, we had so much success because Speed changed the heading and started roping fast and I just tried to be consistent."
Williams qualified for the Wrangler National Finals Rodeo 15 times (1988, 1994, 1996-2008), and Skelton has 22 NFR qualifications on his résumé (1990-2006, 2009-10, 2013-15).
"I don't think there was any secret to our success," Williams said. "We came together at the same time and we had the same desires and we wanted to rodeo and that's what we did every day, but I never even dreamed that we would win eight gold buckles in a row."
Peterson, a four-time world champion, and her great horse French Flash Hawk, better known as Bozo, will fittingly go into the Hall together. Following on the heels of Charmayne James and her great horse, Scamper, it was Peterson and Bozo that ended James' streak of 10 straight world titles, capturing their first of four world titles in 1994.
Although Peterson and Bozo were not successful in defending their title in 1995, the duo would return to the top of the sport in 1996 and then win three straight.
How wonderful … that is just awesome," Peterson said upon learning the news of the induction honor. "I feel very honored and humbled. To go in with Bozo is definitely the carrot on top. I am just speechless."
When asked how it felt to follow James and Scamper, both in the arena and now into the ProRodeo Hall of Fame, Peterson simply said, "Being in the shadow of Scamper is a great place to be."
McBride joins Peterson and Bozo in the Hall as another four-time WPRA champion. She will be inducted posthumously having passed away at the age of 90 on May 10, 2017.
McBride first saw barrel racing at an open rodeo event in 1937 and decided at 10 years old that it was the path she wanted to travel. McBride was a charter member of the Girls Rodeo Association (GRA), formed in her hometown of San Angelo, Texas, just over a decade later.
"She would be overwhelmed and thrilled," said Alva Jean Meek, McBride's daughter. "We are approaching the one-year anniversary since we lost her, but this news would have made her ecstatic. The GRA was a big part of her life, and she put her heart and soul into the earlier association."
Greenough, 54, qualified for the National Finals Rodeo 13 consecutive years (1988-2000), tied with Joe Alexander for the fifth-most overall NFR qualifications in PRCA history. His 15 career NFR go-round wins at the NFR is also fifth most in his event. Greenough won a bareback riding world title in 1993 and a NFR average title in 1992.
Greenough was also known for his success within the Montana Circuit, where he went on to win five circuit titles. Greenough remains tied for the most National Circuit Finals Rodeo wins among all bareback riders with three career wins, in 1995-96 and 1999.
Coffee cried tears of joy when he found out he was selected for induction into the ProRodeo Hall of Fame.
"It kind of brought me to the milk right there, it brought tears to my eyes, that's an old cowboy phrase for it made you cry," Coffee said. "To know that my heroes, my friends and heroes, who are in there, and I'm in there with them – that's just something I dreamed of. I'm just tickled to death to be in there and say, 'Yes, I am in the PRCA Hall of Fame.' It's pretty wild."
As a PRCA Gold Card Member and NFR barrelman, Coffee has enjoyed a long and lively career in ProRodeo as one of only three cowboys to be both a barrelman and a bullfighter at the NFR.
Since 1973, this Texas cowboy has fought bulls at the NFR twice (1979, 1984) and was a barrelman at the NFR in 1991, 1994 and 1997. Coffee also won PRCA Clown of the Year and was in the Top 3 every year from 1984-2001.
"I enjoy putting smiles on faces, and my motto of life is God put me on Earth to do two things – make people happy and help people out, and I can do both in the arena," Coffee said.
Coffee also worked at the first National Circuit Finals Rodeo in 1987, the Texas Circuit Finals Rodeo (1980-82, 1992, 1996-97, 2003-04) and the Canadian Finals Rodeo twice (1985-86).
He was featured in many movies, including "8 Seconds" and "My Heroes Have Always Been Cowboys."
Garrison was two different types of cowboy, a fullback with the Dallas Cowboys and a ProRodeo competitor. He went on to combine his stardom with football and rodeo to raise more than $4 million for multiple sclerosis with his Walt Garrison All Star Rodeos over the course of 20 years.
"I think that dad played football as a career, but he got really fortunate when he retired from the NFL and Copenhagen/Skoal hired him to be a spokesperson," said Walt Garrison's oldest son, Marty.
The Texas cowboy was instrumental in the U.S. Smokeless Tobacco and Winston sponsorships in ProRodeo and the programs those sponsors provided – such as the Winston Scoreboard, sponsorships for individual cowboys and helping college rodeo athletes get scholarships.
"His first love was rodeo, no doubt, ever since he was really young," Marty Garrison said. "That's what he would have done had he not played football in college and then got drafted by the Dallas Cowboys. His whole life, his love was rodeo."
Minick was short on words when he received the phone call that he was being inducted into the ProRodeo Hall of Fame, only because he hadn't had time to process his new place in immortality.
"It took my breath away at first," said the 79-year-old Minick. "I got a few tears. To be among those guys, even the past and the present and future cowboys, it's kind of like that famous old quote that's been said by all the cowboys, and even in song. 'All I ever wanted to be was a cowboy.'"
Minick, born and raised in Fort Worth, Texas, began his professional rodeo career in 1959, enlisting in the Rodeo Cowboys Association after winning titles both in high school and college. Minick qualified for the National Finals Rodeo as a bull rider in 1966. In 1968, Minick purchased the Harry Knight Rodeo Company from Knight and legendary entertainer Gene Autry.
The Billy Minick Rodeo Company eventually produced top NFR bucking stock, including the bucking horse Streamer in 1972 and the bull Tiger in 1973. Tiger would also win Bull of the Year in 1974.
Through the years, Minick helped to produce such rodeos as the Fort Worth (Texas) Stock Show and Rodeo, Rodeo Houston, the San Antonio Stock Show & Rodeo, the Santa Rosa Roundup (Vernon, Texas), Cheyenne (Wyo.) Frontier Days, and many more.
This summer marks a historic year for the Black Hills Roundup in Belle Fourche, S.D. Not only can the rodeo now boast being an inductee to the ProRodeo Hall of Fame, but this year will also be its 99th annual competition.
The Black Hills Roundup started when 15,000 people gathered in a field in Belle Fourche to raise money for World War I in 1918. At the time, the population of Belle Fourche was 1,410.
The next year marked the first time the rodeo took place.
"The board and committee put a lot of time and effort into it," Black Hills Roundup Chairman Clay Crago said. "It's pretty special to us to see the recognition and get into the Hall of Fame."
The big number of people to attend continues today, with an estimated 10,000-15,000 attending a parade during rodeo week in the town of about 6,000.
The historic rodeo, which is 100 percent volunteer-run, also boasts that President Calvin Coolidge attended in 1927.
With the 2018 class included, the ProRodeo Hall of Fame will have enshrined 267 people, 34 animals and 29 rodeo committees.
The WPRA contributed to this release.