Clint Johnson named 2021 Legend of ProRodeo
Ashley Affleck-Johnson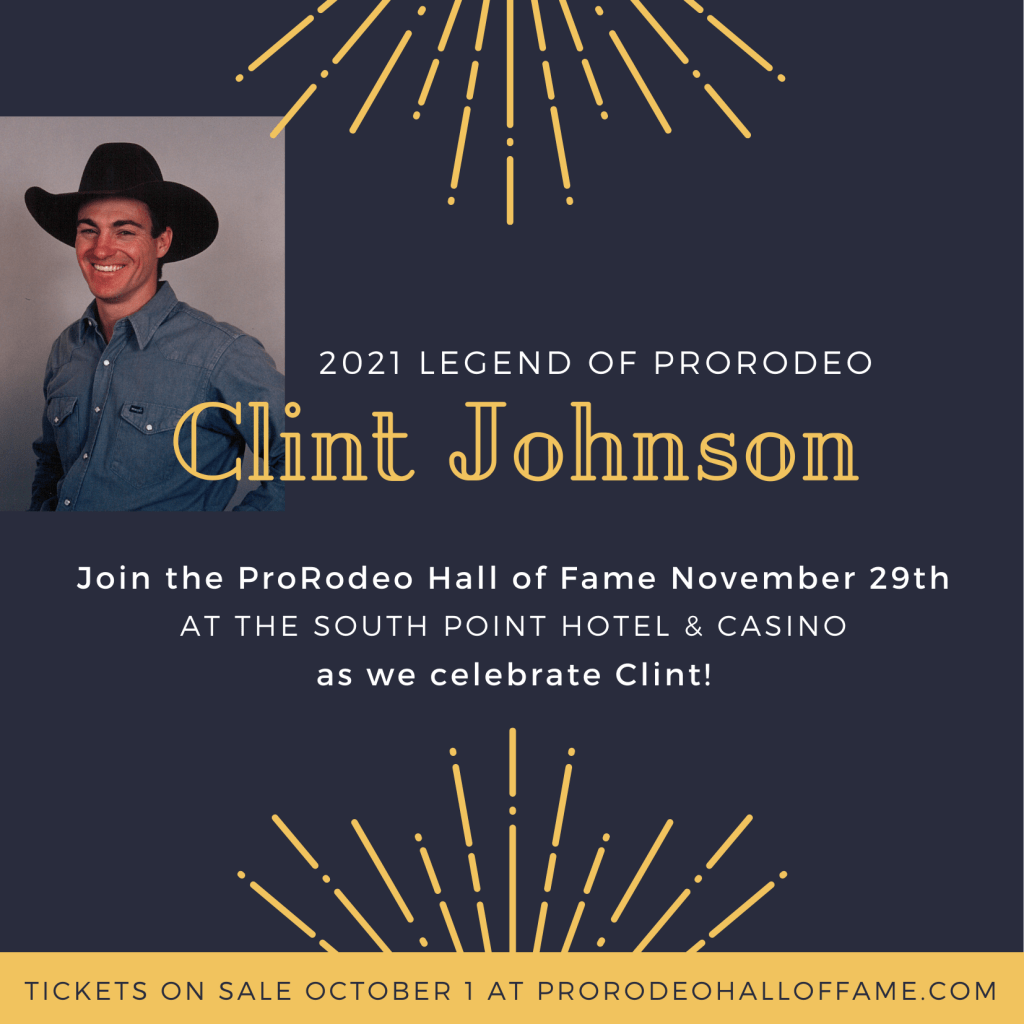 COLORADO SPRINGS, Colo. – ProRodeo Hall of Fame saddle bronc rider Clint Johnson has been named the 2021 Legend of ProRodeo.
Johnson will be honored at the 14th annual Wrangler Gold Buckle Gala on Nov. 29 at 6 p.m. (PT) at the South Point Hotel and Casino in Las Vegas.
"I just found this news out, and it is pretty exciting," said Johnson, 65. "I absolutely did not think this was an option for me. This is quite an honor. There's been a list of prominent people who have received this honor, and I'm quite excited to be among them. I would like to thank the selection committee for choosing me, and I'm looking forward to a fun event."
Johnson began his rodeo career at age 10, and his smooth, consistent style of riding saddle bronc horses led to 11 consecutive qualifications for the National Finals Rodeo from 1979-89. In those 11 career NFR trips he won four world championships (1980, 1987-89) and finished no worse than sixth in the world standings. He also won the NFR average in 1989.
"When you think of legends, you think of greatness. When you think of legends in rodeo, you think of those that accomplished greatness both inside and outside the rodeo arena," said Kent Sturman, Director of the ProRodeo Hall of Fame. "Clint Johnson is a four-time world champion and achieved an overwhelming amount of greatness in the rodeo arena throughout his career, starting in 4-H rodeo, continuing through high school and college rodeo and during his tenure in professional rodeo. And Clint is one of those cowboys who has demonstrated greatness outside of the arena, continually giving back to a sport that he loves by serving on boards, conducting schools and clinics, and providing his expertise to many programs and events throughout rodeo. He was an obvious choice as this year's Legend of ProRodeo."
Johnson was inducted into the ProRodeo Hall of Fame in 1992 in Colorado Springs, Colo.
"None of these honors, like the Legend of ProRodeo and being in the ProRodeo Hall of Fame, are expected," Johnson said. "Going through my career I tried to stay under the radar, but the Legend of ProRodeo is a great honor to be recognized by members of the organization and my peers."
Johnson, who spent four years on the PRCA Board of Directors serving as vice chairman, was born in Spearfish, S.D. Johnson lived there until moving to the Amarillo, Texas, area where he has lived since 1988.
"Rodeo is the No. 1 sport in South Dakota," Johnson said. "It was the thing to do when I was growing up. We all wanted to be cowboys, and we all wanted to be bronc riders. I was lucky enough to live that dream. I kept my goals pretty simple and tried to make the best ride I could every time. I wasn't worried about winning rodeos. I was lucky enough to have a real fortunate career and I have received honors no one could dream of."
Johnson also won his share of prestigious rodeos, including taking home the Calgary Stampede Rodeo's $50,000 bonus three times.
Johnson also won in Cheyenne, Wyo., Salinas, Calif., Reno, Nev., San Antonio, Fort Worth, Texas, Ellensburg, Wash., Red Bluff, Calif., Greeley, Colo., San Francisco, Spanish Fork, Utah, and Prescott, Ariz.
Since Johnson stopped rodeoing, he's been in the ranching business.
"I have a small ranch operation and run a few cows," he said.
Johnson is the 16th man to be honored as a Legend of ProRodeo, following Jake Barnes, Jim Shoulders, Clem McSpadden, Harry Vold, Larry Mahan, Shawn Davis, Dean Oliver, Donnie Gay, Benny Binion, Mel Potter, Neal Gay, Michael Gaughan, Keith Martin, Cotton Rosser and Bob Tallman.