ProRodeo Hall of Fame announces 2017 class
Ashley Affleck-Johnson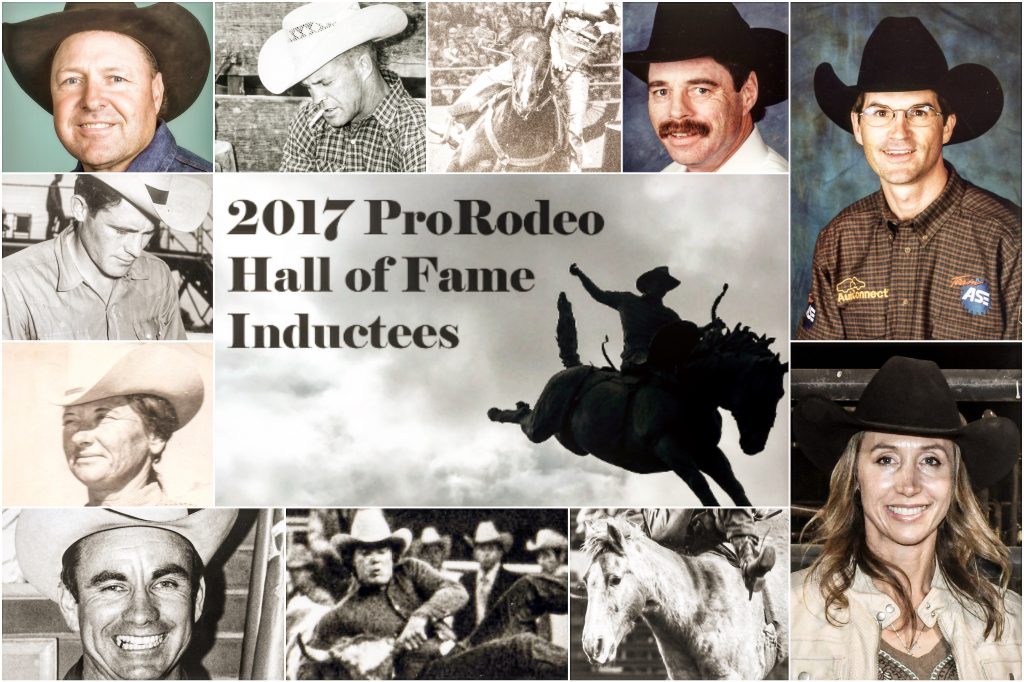 COLORADO SPRINGS, Colo. – Randy Corley, an 11-time PRCA Announcer of the Year, joins five world champions to headline the 12-member 2017 induction class for the ProRodeo Hall of Fame, which was announced Tuesday.
Corley, along with gold buckle winners including the late Buck Rutherford (all-around, 1954), Enoch Walker (saddle bronc riding, 1960), Tommy Puryear (steer wrestling, 1974), Mike Beers (team roping, 1984) and Cody Custer (bull riding, 1992), will be enshrined with rodeo notable Bob Ragsdale, a 22-time National Finals Rodeo qualifier in three events.
Also, voted in by the selection committee were four-time bareback horse of the year, Christensen Bros.' Smith & Velvet, and the committee for the Ogden (Utah) Pioneer Days.
For the first time in the history of the ProRodeo Hall of Fame, barrel racers from the Women's Professional Rodeo Association (WPRA) will be amongst the class of inductees. Their inaugural class will be Wanda Harper Bush, Charmayne James and a joint PRCA/WPRA equine inductee – Star Plaudit "Red." The class will be inducted Aug. 5 at the ProRodeo Hall of Fame in Colorado Springs, Colo.
"It's something that's pretty awesome beyond anything I can say," Corley said. "Right now, I'm kind of in shock. This is quite an honor, and I do not take this lightly – I can tell you that. Nothing can be any better than reaching this pinnacle, other than taking care of every rodeo that I will continue to do. They are all the reasons I'm in the Hall of Fame."
Corley has been selected PRCA Announcer of the Year 11 times (1984, 1990-96, 1998, 2003 and 2011). He has also been an announcer at the National Finals Rodeo 15 times (1985-86, 1992, 1994-96, 2007-08, 2010-16).
Puryear qualified for the NFR nine times, eight of which were consecutive, from 1971-78, and then in 1983. The Texas bulldogger also won the gold buckle in 1974 and the NFR average title in 1976.
"It's really got me kind of speechless, and I'm normally not totally speechless," Puryear said. "I can't believe it – I know several of those people (the other 2017 inductees), and knew them well. I even knew the bucking horse well, too, and it's kind of a coincidence Ogden is there because it's one of my favorite rodeos – it's set up well and fit me well."
Puryear first joined the PRCA in 1970, and now, 47 years later, he's being recognized as one of the best steer wrestlers in PRCA history.
"Most of those guys down there (in the Hall of Fame) were my heroes – people I'd read about," Puryear said. "The first rodeo I went to, I was too bashful to even say hi to them – it was unbelievable being around them."
Rutherford was inducted into the ProRodeo Hall of Fame more than half a century after he was topping the world standings across four events – bareback riding, saddle bronc riding, steer wrestling and bull riding.
The Oklahoma cowboy was in the Top 5 for the world standings 11 times between 1949-57, and was the 1954 all-around world champion and the first cowboy to ever win more than $40,000 in a single year (approximately $362,235 in 2017 dollars according to the U.S. Bureau of Labor Statistics).
Although he never won an individual event championship, he placed second in the bareback riding standings the same year he won the all-around title.
Rutherford twice finished third in the bull riding world standings (1951 and 1954).
Shortly after the 1952 season closed, Rutherford was in a serious car wreck and suffered a life-threatening skull fracture and was unconscious for 15 days. After several months of hospitalization, Rutherford recovered and returned to rodeo to win the all-around title.
His rodeo earnings fell flat after a bad spill slipped a disk in his back in November 1958. He then retired from rodeo and resumed ranching in his hometown until his death at 58 years old on April 28, 1988.
Walker, who won both the 1960 saddle bronc riding world championship and NFR average title, took to the skies in his ascent to ProRodeo fame – qualifying for 10 NFRs during his 20-year tenure with the Rodeo Cowboys Association.
In 1960, the 28-year-old cowboy had been knocking on the door of a gold buckle for years, placing third in 1957, second in 1958 and third again in 1959.
Walker entered the 1960 season with a plan for earning the gold buckle that literally took flight. He teamed up with Paul Templeton, who flew him from one rodeo to the next when his rodeo road trips got too hectic.
Walker arrived at the NFR in Dallas, Texas, leading the pack with $20,832 earned that season by placing 126 times at 56 rodeos and winning 21 rodeos throughout 1960, including Salinas, Calif., and Fort Worth, Texas.
He rode all 10 horses at the NFR in Dallas, placing on five of them – winning the NFR and the world title.
Beers, a heeler, won his world championship while roping with header Dee Pickett, who was inducted into the ProRodeo Hall of Fame in 2003. Beers qualified for the NFR 23 times in team roping (1980-95, 1997-98, 2000-03, 2007).
"This is like winning the world," Beers said. "You hear about all these guys like Larry Mahan, Ty Murray, Dee Pickett, Leo Camarillo, Clay O'Brien Cooper and Jake Barnes, and to be put in a category with those guys is a great honor."
Custer's eight trips to the NFR and 1992 bull riding world championship win landed him in the ProRodeo Hall of Fame.
"It wasn't a call I wasn't waiting on or expecting – it's one of those deals I thought about it, but you don't sit on your hands and wait," Custer said. "I was overwhelmed and a bit emotional, and didn't have much to say."
Custer first joined the PRCA in 1985 and went on to qualify for the NFR from 1987-92, and again in 1998-99. He remained an active competitor through 2002.
"I was just a kid from Arizona who had big dreams to do something in rodeo," Custer said. "Fortunately for me, I had a Cinderella-type career, and in the middle of it you take it for granted – this kind of recognition means a lot to me – as much or more than winning the world title."
For most of his adult life, Robert (Bob) Reuel Ragsdale has served the sport of rodeo as a competitor and as an ambassador. On Tuesday, the cowboy they call "Rags" added "Hall of Famer" to his one-of-a-kind résumé.
"Well, it really hasn't sunk in yet," Ragsdale said with a laugh. "But it's something anybody that's ever rodeoed dreams about. You never think that it could really happen."
Ragsdale, a 22-time NFR qualifier in steer wrestling, team roping and tie-down roping, recognized he will forever be cemented into history among the legends of the sport he holds so dear.
"To be able to be there with all the world's champions – I've done a lot of different things in the PRCA and RCA – but to be nominated and go into the Hall is unbelievable," he said.
Ragsdale became the first and only left-handed roper to qualify for the NFR for 15 consecutive years from 1961-75. He also served as both the Vice President and President of the Rodeo Cowboys Association in the early '70s, and is credited as the one to propose the association include "Professional" to the organization's formal title.
Bareback horse Smith & Velvet was the definition of a late bloomer.
The horse, which was honored as the PRCA's top bareback horse four times (1977, as Mr. Smith, and then 1979-80 and 1982, as Smith & Velvet), didn't become an award-winning bucker until he was into his 20s.
"When I first started bucking him, he would be good for five or six seconds, and then he would spin and stop," said Bobby Christensen, owner of Smith & Velvet. "A lot of people told me to get rid of him, but instead I turned him out for a few years. I entered him in Oakdale, Calif., and he bucked off World Champion Jack Ward. From then on, I knew I had a good horse, and he took off from there."
Smith & Velvet died in 1983 in a tragic car accident that killed many of Christensen's prized NFR horses.
He says the horse was the pride and joy of his rodeo company.
"He went to 25-30 rodeos per year, and was the bread and butter of our company for many years," Christensen said.
The Ogden (Utah) Pioneer Days will celebrate its 83rd year of existence in 2017.
The event has come a long way since its inception in 1934, when Ogden City Mayor Harman W. Peery organized a Western festival to boost the spirits of the locals and entice tourists to visit the city.
"This rodeo was started right after the Great Depression because the community needed it," said Dave Halverson, the rodeo's director. "We've been in the Top 5 of the best large outdoor rodeo category several times in the past 10 years, and the fans here grab onto that."
The Ogden Pioneer Days is more than just a rodeo, it's an event. It includes concerts, parades, farmer's markets, and, of course, the rodeo at historic Ogden Pioneer Stadium.
"We're the largest celebration in the state of Utah," Halverson said. "I know our whole committee and the community will be very excited about being inducted into the ProRodeo Hall of Fame.
"You just do what you do, and you hope that someday you get that call. But we don't do this for notoriety, we do it for the community and the state of Utah."
This year's Ogden Pioneer Days will take place July 20-24.
On the WPRA side, Bush was multi-talented, becoming the most decorated cowgirl in the history of the WPRA (formerly the Girls Rodeo Association).
When the GRA first formed in 1948, Bush was one of the first to sign-up. All totaled, she won 32 world titles – nine all-around (1952, 1957-58, 1962-65, 1968-69), two barrel racing (1952-53), two cutting (1966, 1969), one flag race (1969), 11 calf roping (1951-56, 1960, 1962, 1964, 1966-67) and seven ribbon roping titles (1951, 1953-54, 1956-59). She finished as reserve world champion in the barrel racing three separate times.
While Bush's barrel racing world titles came before the NFR began, she qualified seven times (1959-60, 1962-65, and 1974) for the NFR during her career.
"That is awesome and really great. We are really proud she will be honored in this way," said Shanna Bush, Wanda's daughter, who qualified for the NFR in 1984. "She would be very honored and humbled. She would be very glad to be a part of the Cowboys Association (PRCA) because she always worked for that to be the case. She always wanted them to get along and to better themselves by being associated with each other. This is a very special honor."
Bush will be inducted posthumously, having passed away Dec. 29, 2015.
Although she had to wait 22 years to join her legendary horse Scamper in the ProRodeo Hall of Fame, James is ecstatic to be a part of this historic class.
"I am thrilled to be going in as part of the inaugural class and what this represents for all barrel racers," said James, who now makes her home in Boerne, Texas. "To be going in with Wanda is very exciting. Wanda was such a pioneer for our sport. Throughout my entire career her presence and forging through on issues with barrel racing was there and evident, and why we are where we are today.
"Scamper has just been waiting for me and I was fine with that as he really deserved the honor. This news made my entire day."
James, who grew up in Clayton, N.M., the home of the very first barrel racing National Finals Rodeo in 1959, won the first of 10 consecutive world titles at the youthful age of 14 in 1984.
James was the first WPRA member to wear the coveted No. 1 back number in 1987, and became the first barrel racer to cross the $1 million record in career earnings. In addition to the 10 consecutive world titles (1984-1993), James and Scamper won the NFR average title six times (1984, 1986-87, 1989-90 and 1993). In 1996, Scamper became the first and only barrel horse (until 2017) to be inducted into the ProRodeo Hall of Fame.
James would add a cherry on top of her illustrious career returning to the top of the sport aboard Cruiser (Cruisin on Six) in 2002, winning her 11th world title and seventh NFR average title.
Bringing symbolism to this new chapter in the history of the PRCA and WPRA is best summed up with the induction the horse known as Star Plaudit "Red."
Star Plaudit holds a very unique record in the world of professional rodeo, one that is not likely to ever be duplicated. The bay gelding won two world championships in the sport in a single year and contributed to a third, at the age of 12.
In 1962, Red, as he was affectionately known, carried his owner Sherry (Combs) Johnson to the GRA world title in the barrel racing. The horse also helped close family friend Tom Nesmith to the RCA world title in the steer wrestling, as well as the RCA all-around championship.
Johnson credits the steer wrestling with teaching Red how to run hard through the pattern.
"Lord, that is a blessing and a dream come true for him and I," Johnson said of Red being inducted into the ProRodeo Hall of Fame. "He was a horse of a lifetime, and what he accomplished will never be done again. I had the pleasure of riding him and he had such a big heart. This is just such a wonderful honor."
Red passed away at the age of 22.