The ProRodeo Hall of Fame and Museum of the American Cowboy educates the public about rodeo, its history and impact on Western American culture, and provides recognition to rodeo notables of the past and present and serves as an inspiration for the future.
To bring an appreciation of the American Cowboy and the sport of professional rodeo to the hearts and minds of the public through education, recognition, inspiration and preservation.
The Elite of Professional Rodeo
The colorful history and equally colorful legends of professional rodeo live on at the ProRodeo Hall of Fame. Since the Hall's opening in 1979, 279 people, 35 animals and 30 rodeo committees have been inducted. More than 100 individuals are nominated each year, but only a few are selected.
Be a Part of Rodeo History
Rodeo fans from around the world can help honor and preserve America's original sport for generations to come by joining the ProRodeo Hall of Fame Membership Program. Memberships start as low as $75 a year.
---
2022 Legend of ProRodeo Selected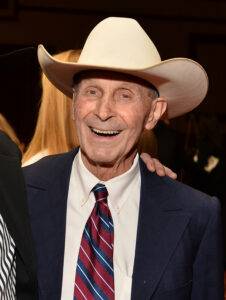 ProRodeo Hall of Fame stock contractor Mike Cervi has been named the 2022 Legend of ProRodeo.

Cervi will be honored at the 15th annual Wrangler Gold Buckle Gala on Nov. 28 at the South Point Hotel and Casino in Las Vegas.

"Thank you very much," said Cervi, 85. "I'm honored and appreciative."

Cervi, who was inducted into the ProRodeo Hall of Fame in 2003, has been involved with rodeo since 1950 and as a stock contractor since 1967.

"I started clowning rodeos when I was 14 years old in Canada for Harry Vold," Cervi said. "I did that for three or four years and that led me into the rodeo business. I have been involved with the cattle business all my life also. Once you got attached to rodeo and were a part of it, it is pretty hard to shake it and do something else."

Cervi's career as a stock contractor for rodeos was on a list of the country's biggest on the PRCA trail like Houston, Denver, San Antonio, Albuquerque, Nampa, Idaho, and Waco, Texas. He was named a two-time PRCA Stock Contractor of the Year (1983, 2001), and he sent countless horses and bulls to compete at the National Finals Rodeo. He was also a longtime member of the PRCA board of directors, who helped the sport leap into the 21st century.

"It is the people you meet and the friendships you make, the lifelong friendships that mean a lot," said Cervi about what he enjoyed most about his lifetime in rodeo. "Those friends are very important to me."

Cervi is the 17th man to be honored as a Legend of ProRodeo, following Jake Barnes, Jim Shoulders, Clem McSpadden, Harry Vold, Larry Mahan, Shawn Davis, Dean Oliver, Donnie Gay, Benny Binion, Mel Potter, Neal Gay, Michael Gaughan, Keith Martin, Cotton Rosser, Bob Tallman, and Clint Johnson.

"The people who have been honored with this award (Legend of ProRodeo) are people who have done a lot for rodeo," Cervi said. "I feel very fortunate to be amongst those type of people. I know probably all those people and I would not have ever thought I would have been amongst those people (as the Legend of ProRodeo)."
---
"Treasures from the Vault" Exhibit Now Open
Treasures from the Vault  is a new temporary exhibit in the 101 Gallery. The gallery features a selection of National Finals Rodeo memorabilia, sculptures, belt buckles and artwork from various donors. These items do not have a permanent display in the museum and will go back in the vault once the exhibit ends. Make sure to check it out before the end of summer.
---
Thank You to Our Partners!