Keith Martin named 2018 Legend of ProRodeo
Ashley Affleck-Johnson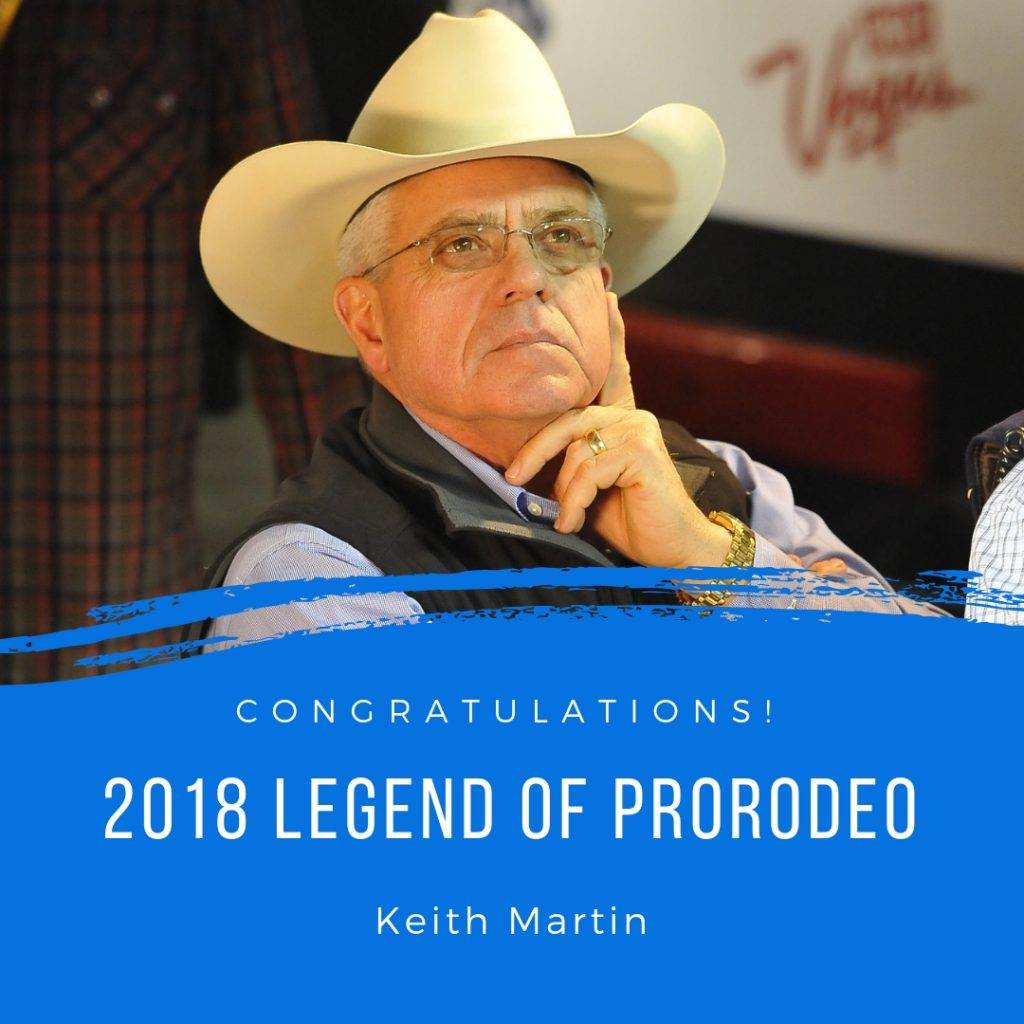 COLORADO SPRINGS, Colo. – ProRodeo Hall of Famer Keith Martin, who was inducted as a rodeo notable in 2011, has been named the 2018 Legend of ProRodeo.
Martin will be honored at the 11th annual Wrangler Gold Buckle Gala at the South Point Grand Ballroom in Las Vegas, Dec. 3.
"When you look at the list of people who have made that, you think, 'Gee-whiz, I'm not in that category,'" said Martin, who served on the ProRodeo Hall of Fame Board of Trustees for more than 10 years. "It just means a lot to me, and to be in the same category with those other folks, I'm happy and humbled more than anything."
As executive director and chief executive officer of the San Antonio Stock Show & Rodeo, Martin set the bar for all rodeo committees when San Antonio became the first $1 million regular-season rodeo in 2007.
At the same time, he was pushing ProRodeo toward a financially secure future in his role as interim CEO and PRCA Commissioner, which he did free of charge.
"I would fly back and forth and never charged the PRCA a dime for that," Martin said. "We got things straightened out and money back in the bank (for the PRCA). We had an awful lot of help, it wasn't a one-man job by any means."
Martin started with the San Antonio Stock Show & Rodeo as a volunteer in 1969, joined the executive committee in 1984 and became president in 1989, igniting a period of unprecedented growth and success. San Antonio has been voted the PRCA's Large Indoor Rodeo Committee of the Year every year since 2005.
"I started when I was 22 years old, and I'm 71 years old now, and I guess it's because of the way I was raised that I volunteer," Martin said, adding that he grew up ranching with his family. "It's a very family-oriented business, families participate and come to the rodeos. It's a very wholesome and patriotic sport. … Every aspect of it is family oriented, and God knows we need to get back to that."
In his time on the PRCA Board of Directors and as interim commissioner in 2007-08, Martin assisted the PRCA staff in developing a budgeting system, and also worked to develop communication opportunities among the association's membership.
The Wrangler Gold Buckle Gala, which benefits the ProRodeo Hall of Fame, begins at 6 p.m. (PT). Tickets go on sale Oct. 1 and can be purchased at www.prorodeohalloffame.com or by calling 719-528-4732.
"I'm excited for the award, but I want to raise money for the Hall, so we need to get people there," Martin said.