2016 ProRodeo Hall of Fame class offers variety
Ashley Affleck-Johnson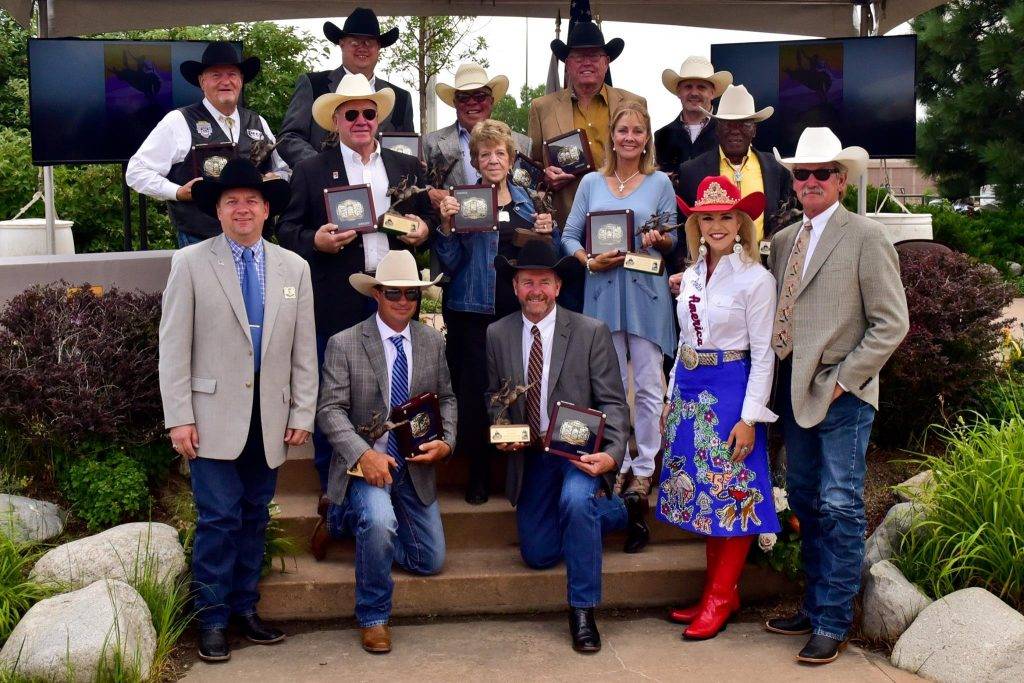 COLORADO SPRINGS, Colo. – The 2016 ProRodeo Hall of Fame induction ceremony offered a class touching all sides of the rodeo business.
Leading the 11-member class were five world champions – Dave Appleton (all-around, 1988), Arnold Felts (steer roping, 1981), John Quintana (bull riding, 1972), Jerold Camarillo (team roping, 1969) and Bud Linderman (bareback riding, 1945).
Joining them were rodeo notable Myrtis Dightman, announcer Phil Gardenhire, renowned steer wrestling horse Scottie, famous saddle bronc horse and sire Gray Wolf, and committees for the Spanish Fork (Utah) Fiesta Days Rodeo and Redding (Calif.) Rodeo.
Appleton summed up the thoughts of all involved by saying, "This is surreal in a way. You walk into that Hall and look at all the icons of the sport who have been so impactful. Then you realize, 'Wow, I'm going to be part of this group.' It's pretty special."
Appleton, who was born in Clermont, Queensland, Australia, was a standout bareback rider and saddle bronc rider. His talents helped him reach the ultimate pinnacle of rodeo success when he won the 1988 all-around championship, becoming the first Australian-born cowboy to win a PRCA world championship.
"No matter what happens going forward, I will always be inducted (in the ProRodeo Hall of Fame), and honestly there's a great amount of pride to be in there," Appleton said. "I'm happy to put the Australian flag in there – that's neat, because it's my heritage."
Camarillo's career highlight came in 1969, when at the tender age of 22, he won the team roping world championship as a heeler.
Camarillo qualified for the National Finals Rodeo consecutively from 1968-1983, and also in 1985-86. He won the average title at the 1975 National Finals Rodeo in Oklahoma City, Okla.
Jerold joins his brother, Leo, a five-time world champion, in the Hall of Fame.
"It never dawned on me that I would make the ProRodeo Hall of Fame one day," Jerold said. "This is a dream come true. I worked all my life to be the best that I could be, and then I got that call from (PRCA Commissioner) Karl Stressman, and I was just speechless. Now, it has hit me today that 'here I am.'"
Felts qualified for the National Finals Steer Roping 20 times (1978-84, 1986-90, 1992-99), highlighted by his 1981 world championship.
He set the record for most consecutive rounds won at a National Finals when he won rounds 3-8 of the 1993 Clem McSpadden National Finals Steer Roping. Additionally, Felts was the NFSR average champion in 1992 and 1994-95.
"I'm kind of still in awe; it's almost overwhelming," Felts said of his induction. "I've been trying to find a way to properly describe it. It's kind of like icing on the cake, whip cream and a cherry and some chocolate syrup, all of it. To be rewarded for something that you loved so much – that's overwhelming."
Quintana – who died when a plane he was piloting crashed just after take-off from Roma Airport in Western Queensland, Australia, March 25, 2013 – was honored posthumously, with his son, JJ, speaking on his behalf.
John Quintana qualified for the National Finals Rodeo from 1969-74, winning the gold buckle in '72. He won or placed in 18 NFR rounds in his career, before moving to Australia in the 1980s to build a cattle empire.
"Dad was known for doing the impossible, and riding the un-ridables," JJ Quintana said. "He rode bulls that would go unridden for years. He lived for the great challenges in rodeo, and in life.
"For dad, rodeo was a vessel to make an impact on people, and for people to make an impact on you. He would've been very honored today, and although he wouldn't have shown it well, down deep it would've meant a lot to him."
Linderman, who died in 1961, was also honored posthumously, with his great nephew, Jay, speaking on his behalf.
Bud Linderman competed in six different rodeo events, with the biggest highlight of his career coming in 1945, when he claimed the bareback riding world championship. That season, he also finished third in saddle bronc riding and third in the all-around.
Linderman was reserve world champion in bareback riding in 1946-47 and third in '48. He joins his older brother, Bill, in the ProRodeo Hall of Fame.
"On behalf of my entire family, I'd like to thank the ProRodeo Hall of Fame for this opportunity," Jay said. "Bud would be honored and proud to know that he was inducted into this fine facility, and to also be here now with his brother, Bill. I'm very proud to be a part of the Linderman family."
Dightman, sometimes referred to as the Jackie Robinson of bull riding, made history in 1964 when he became the first black man to compete in the National Finals Rodeo. Dightman actually finished 17th that year, but went to the NFR as an injury replacement for Carl Nafzger.
In 1966, Dightman made history again by becoming the first black man to qualify for, and compete at, the NFR. He finished eighth in the world standings that season.
"I rode bulls because a lot of people said I couldn't do it, and I wanted to know why," Dightman said. "I had God-given ability like the rest of the guys, and the bulls don't know any color. (Being inducted) is very special. Everything has paid off, and God has been good to me."
Charles Sampson, the 1982 bull riding world champion and a black bull rider who Dightman mentored, introduced him Saturday at the induction.
"Myrtis was right there when I first started riding bulls, and he was a big part of my success," Sampson said. "He told me that being a bull rider was great, but that I needed to also get an education."
Gardenhire, who died at the age of 46 in 1999 as a result of injuries suffered in an automobile accident, was a five-time announcer at the NFR.
Early in his career, he helped reintroduce the "mounted announcer" to ProRodeo.
Gardenhire's wife, Kay, and son, Tyler, spoke on his behalf.
"It's been a long time coming, and we're extremely proud of my dad, and for my dad," Tyler said. "The announcer is the liaison between everything going on in the rodeo and the crowd. They're such a big piece of what makes a rodeo work."
"Phil didn't have a switch he flipped on and off when he was working and at home – he was always the same guy," Kay said. "He always had a great personality, and was very positive and funny. He could tell a joke in any situation."
A pair of horses were included in the induction – one from each end of the arena.
Scottie, who was owned by the late Walt Linderman, is the first steer wrestling horse to go into the ProRodeo Hall of Fame since 1979, and third of all time, joining Baby Doll and Peanuts.
Scottie carried three different cowboys to four world championships – Harley May in 1965, Jack Roddy in 1966 and '68, and John W. Jones Sr. in 1970, when he rode Scottie as one of his mounts during the regular season.
"Dad grew up a cowboy; and working on ranches, he knew horses," said Jay, Walt's son. "He had owned several bulldogging horses before Scottie, and he saw potential in Scottie and knew he could turn him into something great.
"I never saw my dad emotional, but I think he might've been emotional today. I wish he was here."
On the roughstock side, bucking horse sire Gray Wolf joined Scottie.
Gray Wolf never went to the NFR, but he was among the best sires owned by the legendary Tooke family. Gray Wolf produced the most award-winning horses over the last 40 years, and many that can still be seen today in strings from Vold to Beutler to Sankey to Rosser.
"Gray Wolf was nearly all Shire horse – big, powerful, long mane," said Toby Tooke, great-grandson of Feek Tooke and grandson of Ernest Tooke. "As a bucking horse, he was one of the rankest Tooke saddle broncs ever. As a stallion, his crowning moment was when my Grandpa (Ernest) sent him to Calgary for a summer. Those 30 colts he had up there changed rodeo."
The two rodeo committees inducted – Spanish Fork, Utah, and Redding, Calif. – have each been in the PRCA for more than six decades, and are both long-standing members of the Wrangler Million Dollar Silver Tour.
Spanish Fork Fiesta Days Rodeo joined the PRCA in 1942, and has put together a current streak of 44 consecutive sellout performances. In 2017, the rodeo will double its prize money to $20,000 per event, and be bumped up to a Gold Tour rodeo.
"I'm floating on air; my feet aren't touching the ground," said Steven Money, chairman of the Spanish Fork Fiesta Days Rodeo. "I keep pinching myself to make sure it's true. I'm so thankful to the other committee members and the PRCA and the Hall of Fame staff.
"I'm happier than if I'd won $1 million in a lottery, because money can't buy this feeling."
The Redding Rodeo celebrated its 68th year in 2016, and was the site of the inaugural Wrangler Champions Challenge on May 18, 2013.
"It's a once-in-a-lifetime experience," said Bennett Gooch, chairman of the Redding Rodeo. "I've been here to the Hall a million times, but it doesn't sink in until you walk into those gates as inductee – nothing compares to this."
ProRodeo Hall of Fame inductees are selected by a committee of former contestants and rodeo experts. More than 150 individuals are nominated each year and selection is based on contributions to the sport of professional rodeo in any one of seven categories: contestant, stock contractor, contract personnel, rodeo committees, livestock, media and notables/lifetime achievement.
Including this year's inductees, 250 people, 31 animals and 27 rodeo committees have been selected for enshrinement in Colorado Springs since the Hall opened in 1979.