Four world champions head 2015 ProRodeo Hall of Fame class
Ashley Affleck-Johnson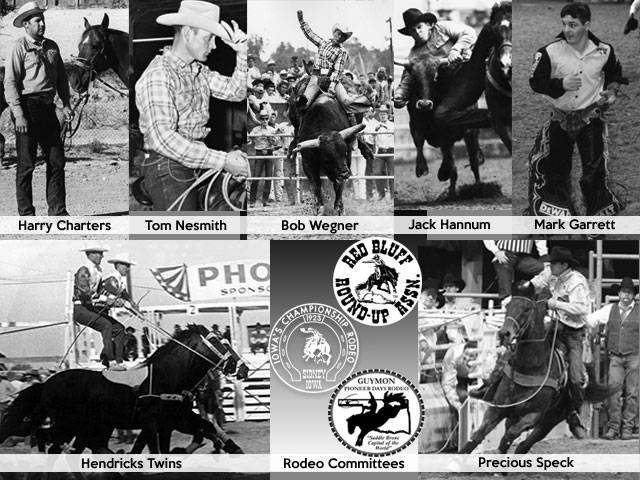 COLORADO SPRINGS, Colo. – World Champion Cowboys Tom Nesmith, Mark Garrett, Bob Wegner and Harry Charters, along with rodeo notable Jack Hannum, the Hendricks Brothers specialty act and four-time team roping head horse of the year Precious Speck (Walt) head the 2015 induction class for the ProRodeo Hall of Fame.
They will be enshrined Aug. 8 during ceremonies in the sculpture garden adjacent to the Hall, along with the rodeo committees from the Red Bluff (Calif.) Round-Up, the Guymon (Okla.) Pioneer Days Rodeo and Iowa's Championship Rodeo (Sidney).
The induction week will kick off with the 28th annual ProRodeo Hall of Fame Golf Tournament on Aug. 6, the Cowboy Ball on Aug. 7, and then culminates with the Induction Ceremonies and the Commissioner's Classic Team Roping competition on Aug. 8.
Nesmith, of Bethel, Okla., was a soft-spoken cowboy whose best events were steer wrestling and calf roping, and he captured the 1962 all-around and steer wrestling world championships.
"This is just great, and I'm flattered on behalf of my dad for him to honored," said Janette Nesmith, Tom's daughter. "I remember traveling from one rodeo to the next with my dad. I think he would've been able to achieve so much more if he hadn't gotten sick."
Nesmith died of a heart attack on Oct. 16, 1972, at the age of 37. In the years leading up to his death, Nesmith battled a rare form of heart disease, and there was no cure at the time.
In Nesmith's double gold buckle season, he won $32,611 to claim the all-around title and $16,789 to win top steer wrestling honors.
"He was an even better horseman than he was a cowboy," Janette Nesmith said. "For him to be recognized with the best cowboys ever is a very good feeling."
Nesmith also finished fourth and third in the 1958 and 1961 calf roping world standings. The 5-foot-10, 180-pounder's first PRCA rodeo was in 1953 at Fort Smith, Ark., and he credited Dick Truitt and Everett Shaw with teaching him the respective skills of steer wrestling and roping.
Garrett, 49, the 1996 world champion bareback rider, was known for his ability to come through under pressure. He won his only gold buckle with a clutch ride in Round 10 at the National Finals Rodeo in Las Vegas, scoring 83 points on Big Bend Rodeo Company's Spring Fling, a 2014 inductee into the ProRodeo Hall of Fame.
That ride also clinched the NFR average title for Garrett with a then-bareback riding record of 786 points on 10 head. He also set the NFR bareback riding earnings record that year with $78,517. He had entered the 1996 NFR about $30,000 behind his older brother, Marvin, who was the bareback riding leader.
Mark Garrett said he was thrilled to join his brother in the ProRodeo Hall of Fame. Marvin Garrett, who won four gold buckles (1988-89, 1994-95), was enshrined in 1998.
It's dang sure an honor," Garrett said. "I'm pretty shocked, I guess. A lot of your heroes and your friends are in the Hall of Fame, but I sure didn't plan on joining them. You don't really count on something like this, but I'm sure happy that it happened. It's an honor to be mentioned with those guys."
Further evidence of Garrett's ability to perform when it mattered most was his win at the 1996 Dodge National Circuit Finals Rodeo in Pocatello, Idaho, where he won both the semifinal and final rounds of the tournament-style rodeo.
Garrett qualified for the NFR nine times (1989-91, 1994-97, 1999-2000). Apart from his world championship in 1996, his highest finishes were third in 1995, sixth in 2000 and seventh in 1994 and '99.
Over an 11-year span from 1956-1966, Wegner finished among the top five bull riders in the world standings 10 times, earning a world championship in 1964 and four reserve world championships (1958-59, 1961, 1966). He twice won the NFR average (1964, 1966).
The Ponca City, Okla., native joined the Rodeo Cowboys Association, precursor to the PRCA, in 1953 and from 1958-62, he never finished worse than third in the world standings. The 5-6, 140-pound Wegner finished second to seven-time bull riding world champion Jim Shoulders in 1958-59.
Wegner passed away March 30, 2014. He was 80.
"This would have meant so much to him," said Edna Turnbo, who lived with Wegner the last 24 years of his life in Bandera, Texas. "I'm just so overwhelmed and thankful to the PRCA. He loved rodeo and he had a passion for bull riding."
In his prime, Wegner could use his feet – and get out of a jam – as well as anyone since Shoulders was at his peak. Bull riders also talked about the way "Weg," as he was known, could use his inside leg – pulling it high like a jockey – and let the bull throw him back up when he  started down, inside a spin.
Although Charters did not buy his RCA permit until 1958, at the relatively advanced age of 33, he managed to compete at an elite level for a decade. He won his only world championship as a rookie steer wrestler in 1959 and went on to put nine NFR qualifications on his career résumé – six in bulldogging and three in tie-down roping.
He barely missed a second world title in 1962 when he finished second by $773 in the steer wrestling to fellow Class of 2015 Hall of Fame inductee Nesmith.
"If he would have started (with the RCA) as a young guy," fellow Hall of Fame inductee Dean Oliver said, "he probably would have won more than anyone in the history of bulldogging."
At 6-6, 250 pounds, Charters was perhaps the biggest world champion in rodeo history, and yet was described by his peers as "dazzling fast and fleet of foot."
Charters was also well-known for his innovative approach to timed-event technique. He is thought to be the first calf roper to dismount from the right side of his horse and his bulldogging style was uniquely his own, giving the appearance that he was picking up his steer, spinning it around and flinging it to the ground.
His Pendleton (Ore.) Round-Up record of 5.0 seconds stood for 11 years.
Charters died of cancer on July 7, 1981, at the age of 56.
Hannum was a five-time qualifier for the National Finals Rodeo and a longtime administrator with the Professional Rodeo Cowboys Association.
He made his big breakthrough in his first year of full-time competition when he won the Cheyenne (Wyo.) Frontier Days all-around title in 1977 on his way to qualifying for the National Finals Rodeo as a tie-down roper.
Hannum made it to the NFR four more times as a steer wrestler (1978-80, 1983), enjoying his best season in 1979 when he finished third in the world behind Stan Williamson and ProRodeo Hall of Famer Byron Walker.
Both of Hannum's sons, Olin and Jake, have qualified for the Wrangler NFR. Olin, 37, went to the WNFR in 2011 as a steer wrestler, and Jake, 34, qualified in 2007 as a tie-down roper.
"Our dad gave a lot of his time and effort to the PRCA, and our family knew how much he did for rodeo, so we're real excited and happy that the PRCA would honor him by putting him in the Hall of Fame," Olin Hannum said. "He was a big-time influence on my brother and me as far as how to be a cowboy."
In 1981, Jack Hannum was hired by the PRCA Board of Directors to serve as the head of rodeo administration, dealing with rodeo sanctioning applications, rule infractions and all things related to membership.
It was the start of more than 25 years of service to the PRCA as Administrator, Circuit Coordinator and Chief of Officials. Hannum is largely credited with taking the judging program to a major-league level.
"He gave up teaching and coaching so he could dedicate his life to rodeo and take a job at the PRCA because it meant so much to him," Olin said. "He always wanted to influence things for the best, and make rodeo better."
Hannum died Sept. 16, 2014, in an Ogden, Utah, hospital of organ failure at the age of 70.
The Hendricks Brothers – identical twins Byron and Lee – entertained rodeo audiences from the 1940s into the 1960s, with a variety of acts that included daredevil Roman riding, bridle-less jumps, dancing horses and dogs.
The Flying Twin Act, with Byron and Lee riding Roman style, had each of them jumping their horses over an automobile in opposite directions. It became their most famous stunt, but probably seemed easy for the brothers, who were both Army paratroopers during World War II.
The Hendricks Brothers delighted rodeo crowds at many of the major rodeo venues, including Madison Square Garden. Rodeo promoter, singer and actor Gene Autry called a dog act of the Hendricks family the "greatest thing I have ever seen." Byron had a dog act that included them jumping rope, and it was featured on television's Ed Sullivan Show.
"I'm very excited," said Lee, 91, who said Byron died in 1996. "I know Byron would be very excited, too. It's a great honor."
Travis Tryan's horse Precious Speck, best known as "Walt," was one of the best to ever carry a team roping header.
Walt was voted the AQHA/PRCA Team Roping Heading Horse of the Year from 2007-09 and four times overall (also in 2003). He was also third in the balloting twice.
"This is like a family member going into the Hall of Fame," Tryan said. "When you have a horse for 10 years, and he's a huge part of your career, to see him go into the Hall is one of the coolest things that can happen."
Tryan once called Walt "the greatest horse that has ever lived." He rode Walt nine times at the Wrangler National Finals Rodeo (2001-09). His brother, Clay (a three-time world champion), rode Walt at the 2001 WNFR, as did 21-time World Champion Trevor Brazile – in 2005.
"When I got Walt I was 19 years old, and when I first rodeoed on him I was 20 and made the Finals," Travis Tryan said. "We kind of started our careers at the same time, and I learned a lot from him. He was so good that all I had to do was go out and rope, and he took care of the rest."
While riding Walt at the 2008 WNFR, Travis Tryan and his partner, Cory Petska, tied the then-world record time of 3.5 seconds in the eighth round.
The horse died April 24, 2010, of an aneurysm while warming up for morning slack at the Clovis (Calif.) Rodeo. He was 20.
Walt was buried under an oak tree at PRCA team roper Bert McGill's Annadale Equine Center in nearby Sanger, Calif.
All three of the rodeos selected for enshrinement are among the oldest and most prestigious PRCA events on the schedule. The Red Bluff Round-Up just completed its 94th annual event last weekend while Iowa's Championship Rodeo, named the PRCA Small Rodeo of the Year in 1997, will be celebrating its 91st anniversary in July, and Guymon Pioneer Days, the 2002 PRCA Large Rodeo of the Year, is producing its 83rd annual event next month.
ProRodeo Hall of Fame inductees are selected by a committee of former contestants and rodeo experts. More than 150 individuals are nominated each year and selection is based on contributions to the sport of professional rodeo in any one of seven categories: contestant, stock contractor, contract personnel, rodeo committees, livestock, media and notables/lifetime achievement.
Including this year's inductees, 243 people, 29 animals and 25 rodeo committees have been selected for enshrinement in Colorado Springs since the Hall opened in 1979.