Class of 2019 Inducted into Hall of Fame
Ashley Affleck-Johnson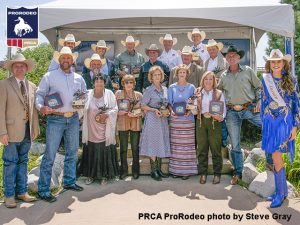 COLORADO SPRINGS, Colo. – Stars converged at the ProRodeo Hall of Fame as the Hall enshrined its 12-member class of 2019 Saturday.
The class was headlined by four-time world champion team roping heeler Allen Bach (1979, 1990, 1995 and 2006).
"I've just been reflecting on how cool our sport has been," Bach said. "Everything about my life is based around rodeo. The team roping schools I do, the business that I do. Had it not been for rodeo, I would not have anything. I've just been doing a lot of reflection on how cool it was to live this kind of life."
Bach holds the PRCA record for most qualifications (including invitations) by a team roper to the National Finals Rodeo with 30 (1978-96, 1998-2008).
"I'm not the most talented, but I loved what I did," Bach said. "I probably outworked most of the people I roped against. A lot of talented guys didn't make it as far as guys like us just because we loved it and we didn't mind working hard at it. My deal was the work ethic I learned, not just in the arena, but driving all night and persevering through dry spells in July and August. Everybody likes to hear about the winning, but you have to learn to accept losing to get to the winning."
The rest of the 2019 ProRodeo Hall of Fame inductees included Commotion, one of the greatest bucking horses of all time; stock contractors Elra Beutler and his son, Jiggs, posthumously; two-time world champion steer wrestler Dean Gorsuch (2006, 2010); world champion bull rider Doug "Droopy" Brown (1969); world champion bareback rider Larry Peabody (1984); notable Jerome Robinson; the Cody (Wyo.) Stampede Rodeo; contract personnel Tommy Lucia, posthumously; and three Women's Professional Rodeo Association inductees – barrel racers Jimmie Gibbs Munroe and Sammy Thurman Brackenberry and notable Florence Youree.
In addition to the inductees, Guy Elliott, a former arena director for the National Western Stock Show and Rodeo in Denver and the San Antonio Stock Show & Rodeo and a number of others, received the Ken Stemler Pioneer Award, which honors individuals in recognition of their groundbreaking, innovative ideas and forward thinking.
Bach also won NFR average titles in 1979 and 2006, roping with Jesse James and Chad Masters, respectively. In 1990 and '95, Bach paired with Doyle Gellerman and Bobby Hurley. In 2007, Bach became the 11th rodeo competitor to surpass $2 million in career earnings. Bach joined the PRCA in 1978.
Bach rallied from 15th to world champion with his 1990 victory in Las Vegas, becoming the first timed-event cowboy to go from 15 to 1 at the NFR. The first year that the PRCA crowned both world champion header and world champion heeler saw Bach and partner Bobby Hurley take the top spots.
Commotion – Bareback Horse
Commotion won three Bareback Riding Horse of the Year awards (1998-2000) when he was part of the Beutler and Gaylord Rodeo Company string.
The 1,300-pound, bay stallion, who stood at 16.1 hands, was voted the top bareback horse at his first Wrangler NFR in 1997.
He made 10 consecutive trips (1997-2006) to the Wrangler NFR before retiring in his prime at the 2006 Finals at the age of 15. Two rounds were won on him at the Wrangler NFR.
Commotion has sired more than 70 horses who have gone on to compete at the Wrangler NFR. His daughter Killer Bee was named the Top Saddle Bronc at the Wrangler NFR in 2013 and 2014 and was runner-up for Saddle Bronc of the Year in 2015. Another daughter of his is Wound Up, the 2016 Top Saddle Bronc at the Wrangler NFR and the 2017 Saddle Bronc of the Year.
"The thing about him is we raised Commotion," stock contractor Bennie Beutler said. "What made Commotion so special was his disposition and he knew it. When you saw himself carrying himself around the arena, he knew he was something special. A lot of guys break them and halter break them, I wanted him to be was wild. We never broke him. I think what Commotion's legacy will be is all the horses he has sired."
In August 2013, artist T.D. Kelsey's larger-than-life-statue of Commotion was dedicated at the National Route 66 Museum Complex in Elk City, Okla. He passed away Sept. 7, 2016, at the Beutler & Son ranch near Elk City, Okla., at 25. He was buried next to the statue.
Elra Beutler & Jiggs Beutler – Stock Contractor
Elra and his son, John Arthur "Jiggs," Beutler formed Beutler and Son Rodeo Company in 1956.
Elra had previously worked with his brothers, Jake and Lynn, to form the Beutler Brothers Rodeo Company. The new company started with seven rodeos its first year. That steadily increased until the Beutlers were putting on about 30 each year across six states.
The Beutler name has been part of professional rodeo for decades, from the onset of Beutler Brothers Rodeo Company in 1929 to the collaboration of Beutler & Son Rodeo Company.
Beutler & Son became synonymous with top livestock and a quality rodeo production.
Focusing on quality over quantity, they chose rodeos based on the traveling needs of their stock. They sent livestock to the NFR every year between 1959-1962 and from 1964-1988.
Elra and Jiggs were among the foremost rodeo promoters in the business.
"I always thought Jiggs and Elra should have been in the (ProRodeo Hall of Fame) before me," said Bennie Beutler, who was inducted into the ProRodeo Hall of Fame in 2010. "Elra taught me all about the stock and being a horseman and Jiggs taught me how to run the rodeos. They were good at what they did, and they lived and bled rodeo. It doesn't get any better than this to get Commotion and Jiggs and Elra in the ProRodeo Hall of Fame."
Jiggs was Bennie's father and Elra was Bennie's grandfather. Bennie's sisters, rodeo secretaries Vickie Shireman and Dollie Riddle, gave the acceptance speech for Elra and Jiggs.
Fast-forward to the present, and Bennie and his son, Rhett, operate Beutler & Son Rodeo Company.
"This is kind of unreal," said Shireman about Jiggs and Elra being inducted. "It is just a tremendous honor to get this kind of award. This is what it is all about."
Elra passed away in 1987 at the age of 90. Jiggs died in a tractor accident in 1980 at the age of 55.
Lynn Beutler, Elra's brother, was inducted into the inaugural ProRodeo Hall of Fame class in 1979.
Elra and Jiggs owned Old Spec, the curiously spotted, cross-bred Brahma bull that in 350 attempts, over a seven-year bucking career, allowed only seven riders to make qualified rides. Old Spec was inducted into the ProRodeo Hall of Fame in 1979. Elra and Jiggs also owned the 1973 Saddle Bronc Horse of the Year, Sam Bass.
"This is a special day," Riddle said. "… Today is the highlight for me with our dad and granddad being recognized for the work they did."
Dean Gorsuch – Steer Wrestler
Gorsuch, a steer wrestler with two world titles, eight qualifications to the Wrangler NFR, two Tour titles and $1.3 million in career earnings has certainly earned his spot in the ProRodeo Hall of Fame.
"Oh, gosh, it's still a dream come true," Gorsuch said. "I'm very humbled and can't tell you how awesome it is, it's something you want when you start your career, but you never know if you will be part of it. It's very, very amazing. When I got a call (announcing his induction into the Hall of Fame) I thought they were joking, but I teared up and started crying because it's a huge honor to be here."
Gorsuch said it takes complete dedication to compete and be successful in ProRodeo. When his sons (Taydon, Trell and Teagan) got older, his priorities shifted from rodeo to fatherhood.
"Rodeo has been God's plan, and I couldn't have thought it out or dreamed it would be like this," Gorsuch said.
The Nebraska cowboy started his PRCA career in 2002 and rapidly rose to ProRodeo stardom as he made his first Wrangler NFR qualification in 2005 and won his first world title in 2006. He went on to qualify again ever year from 2008 through 2013, picking up his second world title in 2010.
Gorsuch competed at the RAM National Circuit Finals Rodeo in 2005 and 2010 and was named Tour champion in 2006 and 2008.
Doug "Droopy" Brown – Bull Rider
Whether he believes it or not, Brown will soon be surrounded by the legends he's admired.
Brown won the 1969 bull riding world championship with $27,610. It was one of 13 total NFR qualifications – five in bull riding and eight in saddle bronc riding (though one year he did not compete due to injury).
All that success landed Brown a Hall of Fame selection.
"It's pretty humbling when you go through (the Hall of Fame) displays of all the predecessors who are in here and to think that you're in with this group," Brown said. "You wonder how many world champions are in here. You're just another one coming in. I'm very thankful.
"I think every cowboy going down the road wants his career to end this way. It's a great way to check out."
Larry Peabody – Bareback Rider
Peabody, a Montana native, made a steady climb in rodeo to his 1984 bareback riding world title.
Within three years of becoming a member, Peabody had qualified for his first National Finals Rodeo. He went on to make five total, all consecutive, and crowned it with the 1984 bareback riding championship.
Saturday he was still trying to come to grips that he is now a ProRodeo Hall of Famer.
"Yes, it did (catch me off-guard)," said Peabody about his induction. "You get emotional, you get to wondering why you got chosen. Sleepless nights (since getting here for the ceremonies). It's been a very enjoyable deal, but it's almost like it's too overwhelming."
Peabody also won the National Intercollegiate Rodeo Association bareback riding title in 1981. He won the Montana Pro Rodeo Circuit bareback riding year-end title four times, the circuit team roping title once and the all-around once.
In 1981, that first NFR trip, he set a then-NFR record with an 89-point ride on Growney's Dreamboat Annie. He also split the NFR average in 1983 and finished the season in third place.
He edged fellow Hall of Famer Lewis Feild for the 1984 title by $2,000. The race was so close it came down to the final round of the NFR. Even after he'd been declared the champ, it took a while for Peabody to truly believe it.
"It (the world title) meant I accomplished what I wanted to accomplish," Peabody said. "That's why I slowed down after that. I never had the drive to rodeo and pursue another world championship."
Jerome Robinson – Notable
Robinson was a cowboy with many hats – a contestant, contractor, event producer, contract personnel and member of the PRCA Board of Directors. With so many titles on his résumé, Robinson is being inducted to the HOF as a Notable, a word that summarizes his career.
"It's pretty humbling, very humbling, when you think of all those who preceded you and are more deserving," Robinson said. "It's very humbling to be recognized for accomplishments, and you almost feel guilty because you know there are others who did as much as you did. I'm thankful and appreciative to the PRCA for everything they contributed to my life."
Robinson competed with the PRCA for 16 years, starting in 1967, and made 11 trips to the NFR (1970-75, '77 and '81). He mentored several PRCA world champion bull riders and many others involved with rodeo production.
Robinson was instrumental in creating PROCOM in 1975, a system still in use today for entering rodeos. This task, along with starting the Winston Tour, are what he considers to be his most difficult achievements.
"I was a bull rider, but I was afforded the opportunity to get on the board," Robinson said. "It was an educational experience where I learned a lot and was fortunate enough to be around when Ken Stemler took over. He was a linear thinker who could explain things."
Cody Stampede Rodeo – Committee
Cody, Wyo., is often called the "Rodeo Capitol of the World" – and for good reason, as it's home to the Cody Stampede Rodeo, which has attracted countless tourists to the small town just east of Yellowstone National Park since 1919.
Now in its centennial year, the Cody Stampede was inducted into the ProRodeo Hall of Fame.
"It is still really overwhelming, and to be part of this impressive class of inductees means the world to us," said Marc Thompson, a co-president of the Cody Stampede with Mike Darby.
Darby also was thrilled about the ultimate recognition given to the Cody Stampede on the year of its 100th anniversary.
"It's the icing on the cake, and that's an understatement," said Darby. "It's a dream come true and a whirlwind of happenings and an honor to be here. We try to put on the best possible rodeo every year with the best athletes and best stock and showcase the very best the sport has to offer."
Thompson knows the Hall of Fame induction is something that was years in the making.
"I feel blessed with this honor because it honors our 100-year history," Thompson said. "We know how much time, effort and energy they put into making this the lasting legacy and getting Hall of Fame status is an honor to the past directors and the Cody community."
The Cody Stampede won the PRCA's Best Large Outdoor Rodeo of the Year in 1998 and 1999.
Tommy Lucia – Contract Personnel
Lucia was a Wrangler NFR Barrelman (1973), three-time Wrangler NFR Specialty Act (1997, 1999 and 2004) and three-time PRCA Specialty Act of the Year (2003-05).
For more than 50 years he worked as a barrelman and specialty act, entertaining at rodeos across the U.S. In 2010, he was inducted into the Texas Cowboy Hall of Fame, and in 2016, he was inducted into the National Cowboy Rodeo Hall of Fame.
Lucia passed away June 1, 2016, on his 75th birthday.
His son, Anthony, a ProRodeo announcer, trick rider and team roper, knew first-hand the passion his father had for rodeo and success.
"We're proud of the way that he was, and we're proud of how hard he worked to achieve the things that he did," Anthony said. "When it came down to it, he wasn't doing it for glory he was doing it to survive and to provide for his family. He gave his heart and his soul to professional rodeo, his animals and everybody around him so that he could provide for his family. When it came down to it, that's who my dad was."
Dominic Lucia, Anthony's older brother, echoed his brother's sentiments.
"Our dad's legacy, as time has moved on, I think we've all realized the importance of that and I think at the end of his life he realized the importance of that," Dominic said. "So, it's something like this that will be there for our kids, our kids' kids and generations to come to see what he did. What he contributed not only to rodeo, but also society is something that is very meaningful to us as a family."
Jimmie Gibbs Munroe – Barrel Racer
While Gibbs Munroe initially made a name for herself in the rodeo arena, winning a world title in 1975, her love and commitment to the association cemented her legacy in the sport.
"It's just a tremendous honor to be included in the ProRodeo Hall of Fame because it's the only hall that's solely dedicated to the sport of professional rodeo and I'm just so excited that women have a place now and can be included in the Hall thanks to the PRCA," Munroe said.
Munroe was an 11-time NFR qualifier and WPRA president from 1978-93.
"I spent a lot of years in the sport of professional rodeo and it was certainly good to me," Munroe said. "I was very fortunate in what I was able to do and achieve in the sport.
"It's exciting to be able to join my husband who was inducted as competitor in the Hall (Dan "Bud" Monroe, a 12-time NFR qualifier, 1986 PRCA World Champion Saddle Bronc Rider and 2007 inductee), that's really something and means a lot."
Sammy Thurman Brackenbury – Barrel Racer
Brackenbury was also an all-around talent, even roping and winning money in PRCA rodeos. Brackenbury qualified for the NFR 11 consecutive times, winning the world title in 1965.
During her career she served as the California Circuit Director, All-Events Director, vice president of the Association and in 1975 served as the president of the Girl's Rodeo Association.
"I'm very proud to be honored, and I'm glad to be here," Brackenbury said. "Everyone has been really good, and I'm proud to be inducted with the other barrel racers.
"My dad rodeoed, and my grandfather even rodeoed. It was a way of life for me. I grew up going to rodeos with my dad and mom – it was my life, it always has been my life, and I was very proud to win the world."
Florence (Price) Youree – Notable
Youree is the first notable inducted under the WPRA umbrella into the Hall of Fame.
Youree was among the Top 15 six times and won the WPRA all-around title in 1966. But it was her services to the GRA/WPRA in an administrative capacity that landed her induction.
Youree served the association as a director, then president from 1960-64 and then secretary-treasurer, where she made the biggest impact. It was during that time that Youree worked to get the barrel racing included at the NFR as it is today.
"This is the biggest honor I could ever receive," Youree said. "I couldn't believe it (when they told me I was going to be inducted). When you do things that you really enjoy doing, you really don't think you're doing anything. I've had fun since I joined what was then the Girls Rodeo Association in 1951."
And, Youree truly appreciated when the NFR added barrel racing.
"We were very grateful. It was like a dream come true," she said "… I met with Mr. Stanley Draper that day and convinced him that they (the NFR) needed the girls, they needed some color."
The WPRA contributed to this report.