Four World Champion cowboys head 2014 ProRodeo Hall of Fame induction class
Ashley Affleck-Johnson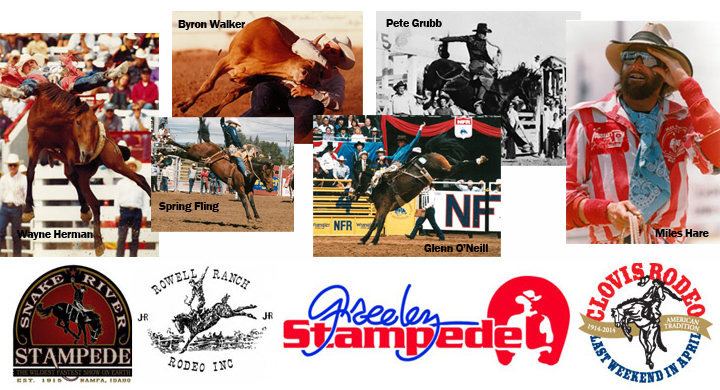 COLORADO SPRINGS, Colo. – World Champion Cowboys Pete Grubb, Wayne Herman, Glen O'Neill and Byron Walker, along with two-time World Champion Bullfighter Miles Hare and Spring Fling – one of just two horses to be honored as both a bareback and saddle bronc horse of the year – head the 2014 induction class for the ProRodeo Hall of Fame.
They will be enshrined Aug. 9 during ceremonies in the sculpture garden adjacent to the Hall, along with the rodeo committees from the Clovis (Calif.) Rodeo, Greeley (Colo.) Stampede, Rowell Ranch Rodeo in Hayward, Calif., and the Snake River Stampede in Nampa, Idaho.
The induction week will kick off with a 35th anniversary celebration of the ProRodeo Hall of Fame on Aug. 6, and will be followed by the 27th annual ProRodeo Hall of Fame Golf Tournament on Aug. 7, the Cowboy Ball on Aug. 8, and then culminates with the Induction Ceremonies and the Commissioner's Classic Team Roping competition on Aug. 9.
Grubb, who died in 1969 at the age of 56, was the first ProRodeo cowboy to win world championships at both ends of the arena. The Salmon, Idaho, cowboy won the bareback riding title in 1938 and the team roping (as a heeler) in 1940. He was the first cowboy to win both the bareback riding and saddle bronc riding in the same year at New York's Madison Square Garden, managing that parlay in 1934, and he won the bareback riding again in 1935-36.
Herman, 50, won the world bareback riding gold buckle in 1992 in the seventh of his 11 qualifications for the Wrangler National Finals Rodeo, a year after winning the NFR average title and finishing second to Clint Corey, just $1,050 shy of the gold buckle. A native of Dickinson, N.D., now living in Halliday, N.D., Herman had six finishes among the top five bareback riders in the world and earned $856,490 in his career.
"I was a little stunned, I guess, and quite honored to be put into the Hall beside people like Lewis Feild and Ty Murray, all the past champions who are the greatest in history," Herman said. "It's quite humbling to even be considered to be in their presence in that Hall. I knew it was April 1st and I called the number back just to make sure it wasn't an April Fools' joke. When Kent (Sturman, the ProRodeo Hall of Fame Director) answered, I realized it was the real deal. I don't know if it has quite sunk in yet, but it feels pretty good."
And even with that moment of uncertainty, being notified about being selected to the ProRodeo Hall of Fame on April 1 had a special meaning to Herman: "It was my son's birthday, John Wayne. He passed away in 1991, the year I won the average at the Finals. He was 4 years old when he died (of cancer), so it was kind of cool that I found out about the Hall of Fame on his birthday."
The 1994 saddle bronc riding rookie of the year, O'Neill qualified for his first NFR a year later and competed at an elite level for more than a decade. He won his gold buckle in 2002 – capturing the NFR average title along the way – and was reserve world champion in both 2001 and 2003, finishing less than $5,000 behind fellow Hall of Famer Dan Mortensen in his title-defense year. Eight times the Australian-born O'Neill finished in the top five among PRCA saddle bronc riders and earned $1,614,860.
"One of the things that gives me the greatest joy is to think about where I started and how far I have come, as far as rodeo and in life, moving halfway across the world and making this life for myself," O'Neill said. "I didn't expect to get that call; it's one of those things where you wonder if your career will be recognized as good enough for the Hall of Fame, because it's such a big feat. I was surprised and excited, and it's a great achievement. This is the pinnacle of rodeo, and it's the icing on top of the cake for my career."
Only Roy Duvall has made more NFR steer wrestling appearances than Walker's 16 (1977-87, 1991, 1997-2000) over four decades. The Ennis, Texas, resident is part of a rare two-world championship household. He won his steer wrestling title in 1981 and his wife, Mary, was the barrel racing world champion in 2012. Byron was twice a reserve world champion as well, in 1979 and again in 1983, when he finished just $893 back of Joel Edmondson.
"Being second to Roy Duvall (in NFR qualifications), that's a pretty good short list right there," Walker said, "but I think I am most proud of being a pretty good cowboy. I was good at Cheyenne, Salinas, San Antonio and Oklahoma City (in all different setups). My dad (Whitey Bob Walker) taught me everything I know about steer wrestling and (four-time World Champion) Jim Bynum taught me how to win. He lived 15 miles down the road from us and hazed my first steer when I was 12. Nobody knew more about winning than Jim Bynum."
Hare, 58, spent more than three decades throwing his body in the path of 1,500-pound beasts to protect rodeo cowboys before retiring in 2008; he worked as a bullfighter at the NFR six times (1977, 1985, 1988-91) and twice more as an alternate (1984, 1992). He won the inaugural Wrangler World Champion Bullfighters title in 1981 and shared that honor with fellow Hall of Famer Rob Smets in 1988. "He's a cowboy saver – that's all he is," the late Quail Dobbs said of the Liberty, Texas resident. "There's no better man that I would trust."
Along with Kingsway Skoal, Big Bend Rodeo's legendary mare Spring Fling is the only horse to be honored as both a Bareback and Saddle Bronc Horse of the Year. Spring Fling started out on the bareback side and received the PRCA's top honor in that category in 1997, then came back to twice claim the saddle bronc award, winning it outright in 1999 and sharing it with Surprise Party Skoal, of Sankey Rodeo, a year later. Spring Fling was also voted the top saddle bronc horse at the 2001 Wrangler NFR and three times was voted the top saddle bronc horse at the Dodge National Circuit Finals Rodeo in Pocatello, Idaho.
"After she won the bareback deal in 1997," said co-owner Don Hutsell, "she grew up quite a bit, so I stuck her in the broncs because I knew she would be an outstanding one."
The PRCA committees selected for enshrinement this year are among the PRCA's longest-standing and most respected rodeos. Clovis, part of the Wrangler Million Dollar Tour, is celebrating its 100th anniversary later this month. Nampa will have its centenary rodeo next year, while Hayward is in its 93rd year and Greeley in its 92nd.
ProRodeo Hall of Fame inductees are selected by a committee of former contestants and rodeo experts. More than 100 individuals are nominated each year and selection is based on contributions to the sport of professional rodeo in any one of seven categories: contestant, stock contractor, contract personnel, rodeo committees, livestock, media and notables/lifetime achievement.
Including this year's inductees, 236 people, 28 animals and 22 rodeo committees have been selected for enshrinement in Colorado Springs since the Hall opened in 1979.