ProRodeo Hall of Fame inducts 2017 class
Ashley Affleck-Johnson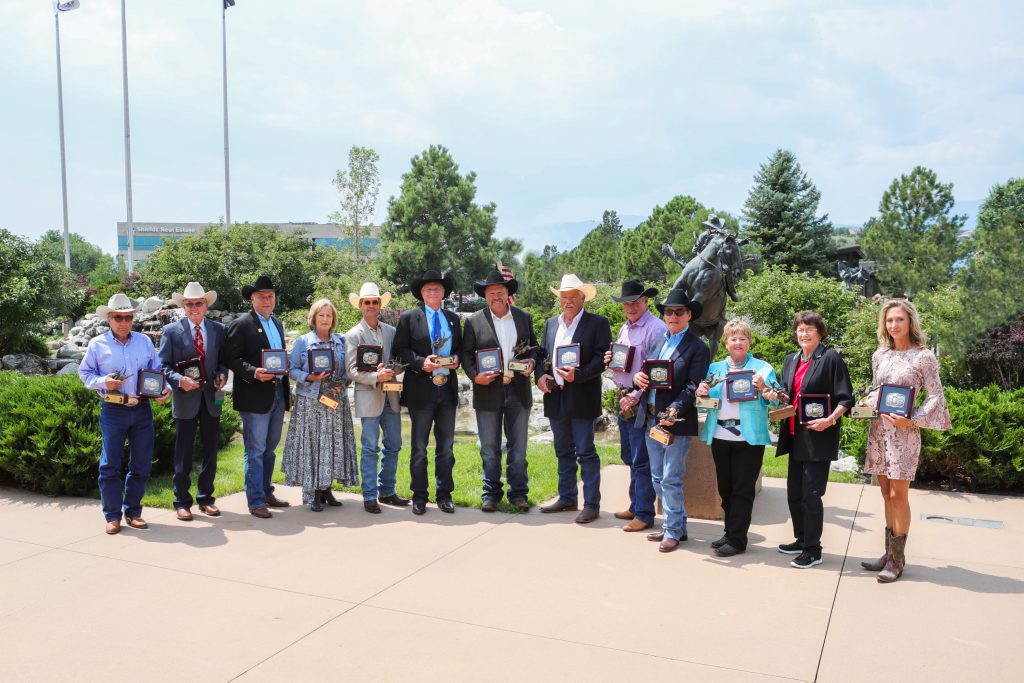 COLORADO SPRINGS, Colo. – Stars converged at the ProRodeo Hall of Fame Saturday as a new class was enshrined into the prestigious Hall.
Randy Corley, a 12-time PRCA Announcer of the Year, joined five world champions to headline the 12-member 2017 induction class.
Corley, along with gold buckle winners including the late Buck Rutherford (all-around, 1954), Enoch Walker (saddle bronc riding, 1960), Tommy Puryear (steer wrestling, 1974), Mike Beers (team roping, 1984) and Cody Custer (bull riding, 1992), were enshrined with rodeo notable Bob Ragsdale, a 22-time National Finals Rodeo qualifier in three events.
Also inducted into the Hall were four-time bareback horse of the year, Christensen Bros.' Smith & Velvet, and the committee for the Ogden (Utah) Pioneer Days.
For the first time in the history of the ProRodeo Hall of Fame, barrel racers from the Women's Professional Rodeo Association (WPRA) were amongst the class of inductees. Their inaugural class was comprised of Wanda Harper Bush, Charmayne James and a joint PRCA/WPRA equine inductee – Star Plaudit "Red."
Corley's résumé is ProRodeo Hall of Fame worthy. He has been selected PRCA Announcer of the Year 12 times (1984, 1990-96, 1998, 2003, 2011 and 2015). He also has been an announcer at the National Finals Rodeo 16 times (1985-86, 1992, 1994-96, 2007-2016).
"It was the worst night of sleep I had (Friday night) in 45 years," Corley said. "I just think it was nerves. There are 259 people in the Hall and that's not a huge number for a Hall that opened in 1979. I'm in a pretty select group and I'm so honored. My whole thing is cowboys are the stars. When they are nodding their head, you've already told everyone who they are.
"That's what I strive for, and have forever, and to be a good person to everybody, inside the arena and outside the arena. Those are the deals that I think make you a better announcer because then you're true, and true is the best way to announce."
Puryear qualified for the NFR nine times, eight of which were consecutive, from 1971-78, and then again in 1983. The Texas bulldogger also won the gold buckle in 1974 and the NFR average title in 1976.
"This day is something that you never plan for when you're out rodeoing. I've been ready for this to happen so I can stop thinking about it – it's something you think about every day since the call that you're in the Hall of Fame," Puryear said. "One of the main reasons I'm here today is because of the people I had around me who supported and helped me. So many friends and family contributed to this. I never owned my own horse – I always traveled with horsemen and stayed in a positive rig. We'd go to 120 rodeos a year, and we loved every second of it."
Puryear first joined the PRCA in 1970, and now, 47 years later, he's recognized as one of the best steer wrestlers in PRCA history.
"Leon (Bauerle) and I rode up to Colorado Springs together – we didn't fly, we drove up in the truck from Texas together just like we used to," Puryear said. "It was one for the road and to relive the old times, and we still get along really well. Leon was always easy to travel with, as long as you agreed with him. But a great deal of the credit for me being here is due to Leon and his horses."
Rutherford was inducted into the ProRodeo Hall of Fame more than half a century after he was topping the world standings across four events – bareback riding, saddle bronc riding, steer wrestling and bull riding.
The Oklahoma cowboy was in the Top 5 of the world standings 11 times between 1949-57, and was the 1954 all-around world champion and the first cowboy to ever win more than $40,000 in a single year (approximately $362,235 in 2017 dollars, according to the U.S. Bureau of Labor Statistics).
"It's quite an honor, and he's a part of history," said Claudine Rutherford, Buck's sister-in-law. "He could do anything."
Becky Raetzsch, Rutherford's daughter, also was thrilled about the honor bestowed on her father.
"It's exciting, and it gives us a chance to learn more about the history of him," she said. "It really is quite an honor. I have his grandchildren here, all of his great-grandchildren are here, so it's really exciting for all of them."
Although he never won an individual event championship, he placed second in the bareback riding standings the same year he won the all-around title.
Rutherford twice finished third in the bull riding world standings (1951 and 1954).
His rodeo earnings fell flat after a bad spill slipped a disk in his back in November 1958. He then retired from rodeo and resumed ranching in his hometown until his death at 58 years old on April 28, 1988.
Walker, who won both the 1960 saddle bronc riding world championship and NFR average title, took to the skies in his ascent to ProRodeo fame – qualifying for 10 NFRs during his 20-year tenure with the Rodeo Cowboys Association.
"It's a pretty cool deal and pretty humbling to be around the guys who are world champs. I knew a lot of them like Cody Custer and Mike Beers, and you look up to a lot of those guys. My father would have been humbled to be with them," said Jack Walker, one of Enoch's sons.
In 1960, the 28-year-old Walker had been knocking on the door of a gold buckle for years, placing third in 1957, second in 1958 and third again in 1959.
Walker entered the 1960 season with a plan for earning the gold buckle that literally took flight. He teamed up with Paul Templeton, who flew him from one rodeo to the next when his rodeo road trips got too hectic.
Walker arrived at the NFR in Dallas, Texas, leading the pack with $20,832 earned that season by placing 126 times at 56 rodeos and winning 21 rodeos throughout 1960, including Salinas, Calif., and Fort Worth, Texas.
He rode all 10 horses at the NFR in Dallas, placing on five of them – winning the NFR and the world title.
"I think it would have been great if he could have been here," Jack Walker said. "It would have meant everything to him because of the caliber of people in the (ProRodeo) Hall of Fame; he would have thought it was really cool. These guys were all top of the world in their day, and I was on the bottom looking up, so it's humbling for me to be here, but it would have been special for him to have seen it."
Beers, a heeler, won his world championship while roping with header Dee Pickett, who was inducted into the ProRodeo Hall of Fame in 2003. Beers qualified for the NFR 23 times in team roping (1980-95, 1997-98, 2000-03, 2007). He also qualified for the NFR in tie-down roping in 1981, 1983 and 1985 and for the Clem McSpadden National Finals Steer Roping in 1992.
"I'm going into rodeo immortality and 50 years from now, they are still going to remember my name," Beers said. "That's something you never think about when you're a kid growing up rodeoing. You want to win a championship or make the Finals, but it is never a thought of being in the Hall of Fame. There's three things I guess in my career I really remember. One was winning the world championship with Dee Pickett, the second one was making the Finals with my son, Brandon, in 2007, and now being inducted into the ProRodeo Hall of Fame. This is the icing on the cake."
Custer's eight trips to the NFR and 1992 bull riding world championship win landed him in the ProRodeo Hall of Fame.
"I found out that my permanent position will be next to John Quintana, and that's a big deal because he was my hero as a kid," Custer said. "It's one of those deals where I've looked at the stuff here (at the ProRodeo Hall of Fame) and to see it next to a guy like that and then Ronnie Rossen and Charlie Sampson, it's a cool deal. I took a picture of it, and I'll send it to his (Quintana's) son. I never met John as an adult, but I knew him as a kid and he made me feel like I belonged. I remember how he made me feel as a kid, and I try do that for kids now."
Custer first joined the PRCA in 1985 and went on to qualify for the NFR from 1987-92, and again in 1998-99. He remained an active competitor through 2002.
"The people that have come here to be with me – everyone has a piece of this and it's not just mine," Custer said. "Corey Navarre is here too, I rodeoed with him and if it wasn't for him I wouldn't have gone to the NFR in 1999 because I had wanted to go home.
"I told everyone here with me that this is theirs too – everyone from my mom and dad to the guys I rodeoed with, it's an awesome thing. I've said it before and I'll say it again, everything I accomplished in the arena was because of my hard work and some talent. Being inducted is just a gift in my book."
Ragsdale, for most of his adult life, has served the sport of rodeo as a competitor and as an ambassador. On Saturday, the cowboy they call "Rags" added "Hall of Famer" to his one-of-a-kind résumé.
"It's been a whirlwind," Ragsdale said. "It's just been a great experience. Kind of the last of the big events probably, for me. I'm not rodeoing anymore, so I'm reminiscing like we used to in the old days."
Ragsdale, a 22-time NFR qualifier in steer wrestling, team roping and tie-down roping, recognized he will forever be cemented into history among the legends of the sport he holds so dear.
"Going through the Hall, that's what's amazing," he said. "I know so many of them, and I can remember stories, and when I see someone, a story will pop up in my head or some event that happened. It's neat. Even though they're gone, I relive that in my mind."
Ragsdale became the first and only left-handed roper to qualify for the NFR for 15 consecutive years from 1961-75. He also served as both the Vice President and President of the Rodeo Cowboys Association in the early '70s, and is credited as the one to propose the association include "Professional" to the organization's formal title.
Smith & Velvet was the definition of a late bloomer.
The horse, which was honored as the PRCA's top bareback horse four times (1977, as Mr. Smith, and then 1979-80 and 1982, as Smith & Velvet), didn't become an award-winning bucker until he was into his 20s.
This is Bobby Christensen's third horse to be inducted into the ProRodeo Hall of Fame. Christensen also has saddle bronc horses Miss Klamath (1998) and War Paint (2011) in the Hall, but Smith & Velvet is his first bareback horse to be enshrined.
"Early on, I never would've believed that he'd be in the Hall of Fame, but after he won horse of the year a few times I was thinking it would happen. It's been 34 years since the horse died – I think the best way to describe this is late in coming, but well-deserved.
"When Smith & Velvet was in his prime, everybody wanted to see him and everybody wanted him at their rodeo. I could go to a committee and say, 'Hey, I have the bareback horse of the year if you want to hire me to bring stock to your rodeo.' That worked a lot of places.
"Smith & Velvet knew what he was doing, and liked what he was doing. He was even-tempered, and I rode him in his early years. But I wouldn't have wanted to ride him in his later years, that's for sure."
Smith & Velvet died in 1983 in a tragic car accident that killed many of Christensen's prized NFR horses. He says the horse was the pride and joy of his rodeo company.
The Ogden (Utah) Pioneer Days celebrated its 83rd year of existence July 20-24.
The event has come a long way since its inception in 1934, when Ogden City Mayor Harman W. Peery organized a Western festival to boost the spirits of the locals and entice tourists to visit the city.
"We just got done with this year's rodeo, and it really settled in with the community and the rodeo and the committee," said Dave Halverson, the rodeo's director. "We have had honors and people have shed tears of joy. People have been outstanding, and we are humbly honored to be recognized."
The Ogden Pioneer Days is more than just a rodeo, it's an event. It includes concerts, parades, farmer's markets, and, of course, the rodeo at historic Ogden Pioneer Stadium.
"When you look at the community of Ogden – this is one of the biggest awards this city will receive, and so on behalf of the committee and the city, we're honored and delighted to be so recognized," said Alan Hall, chairman of the Ogden Pioneer Foundation. "We appreciate the (ProRodeo) Hall of Fame and the committee for the selection and all those who make this organization world class."
Bush was multi-talented, becoming the most decorated cowgirl in the history of the WPRA (formerly the Girls Rodeo Association).
When the GRA first formed in 1948, Bush was one of the first to sign-up. All totaled, she won 32 world titles – nine all-around (1952, 1957-58, 1962-65, 1968-69), two barrel racing (1952-53), two cutting (1966, 1969), one flag race (1969), 11 calf roping (1951-56, 1960, 1962, 1964, 1966-67) and seven ribbon roping titles (1951, 1953-54, 1956-59). She finished as reserve world champion in barrel racing three separate times.
While Bush's barrel racing world titles came before the NFR began, she qualified seven times (1959-60, 1962-65, and 1974) for the NFR during her career.
"I'm honored to accept this honor for my mom, a famous legend, an icon, and my very best friend," said Shanna Bush, Wanda's daughter, who qualified for the NFR in 1984. "For my dear uncle, A.C. Harper, who said my mom was a world champion sister. How deserving to be the first woman inducted into the ProRodeo Hall of Fame. History is made today, and she did it by being just Wanda."
Bush was inducted posthumously, having passed away Dec. 29, 2015.
"She was one to shy away from publicity, interviews and pictures," Shanna said. "Material things just didn't mean much to mom. She taught many movie stars, singers, governors, vice presidents and their kids to ride, or they bought horses from us. But no one ever knew when they came or went from our ranch, that's just how our family was. She was a really appreciative person always content with just what she had."
James may have had to wait 22 years to join her legendary horse, Scamper, in the ProRodeo Hall of Fame, but was ecstatic to be a part of this historic class.
"I finally get to join him (Scamper), and that's emotional," said James, who now makes her home in Boerne, Texas. "Today is really a big deal, not only for me, my family, but I think for all the barrel racers of the WPRA. I couldn't be more proud and humbled to be one of the first inductees as one of the barrel racers."
James, who grew up in Clayton, N.M., the home of the very first barrel racing National Finals Rodeo in 1959, won the first of 10 consecutive world titles at the youthful age of 14 in 1984.
James was the first WPRA member to wear the coveted No. 1 back number in 1987, and became the first barrel racer to cross the $1 million mark in career earnings. In addition to the 10 consecutive world titles (1984-1993), James and Scamper won the NFR average title six times (1984, 1986-87, 1989-90 and 1993). In 1996, Scamper became the first and only barrel horse (until 2017) to be inducted into the ProRodeo Hall of Fame.
James would add a cherry on top of her illustrious career, returning to the top of the sport aboard Cruiser (Cruisin on Six) in 2002, winning her 11th world title and seventh NFR average title.
"My mom traveled a million miles with me and my whole family sacrificed, so this induction is not just about me, but also your family and friends," James said. "The horses along the way, I couldn't have been here without the great horses. Obviously, Scamper was a godsend. This is just like icing on the cake getting up here today and accepting this honor."
Star Plaudit "Red" holds a very unique record in the world of professional rodeo, one that is not likely to ever be duplicated. The bay gelding won two world championships in the sport in a single year and contributed to a third, at the age of 12.
In 1962, Red, as he was affectionately known, carried his owner Sherry (Combs) Johnson to the GRA world title in the barrel racing. The horse also helped close family friend Tom Nesmith to the RCA world title in the steer wrestling, as well as the RCA all-around championship.
Johnson credits the steer wrestling with teaching Red how to run hard through the pattern.
"He (Red) was such a special, special horse," Johnson said. "He was a really good bulldogging horse. We went to Denver, his first rodeo, and we won the go and I found out that day what run meant. He always ran his hardest. He was the best horse. I never had a horse like him, and he had heart. I believe that a barrel racer better know her barrel horse better than her husband, and I think we do."
Red passed away at the age of 22.
With the 2017 class, the ProRodeo Hall of Fame now has enshrined 259 people, 33 animals and 28 rodeo committees.