Team Roping • Inducted 2007
For more than 20 years, Joe Glenn was among the sport's elite team ropers, winning world championships in 1948 and 1967. He nearly managed the rare accomplishment of being a world champion in three decades. Glenn entered the 1959 season finale in Clayton, N.M., with a $901 lead, but he and partner Fred Darnell failed to cash and Glenn finished second in the world standing, just $64 behind fellow Hall of Fame inductee Jim Rodriguez Jr.
Glenn qualified for the NFR seven times, including his last in 1970 when he finished the year sixth overall, at the age of 56. He had seven top-five finishes in the world standings some of them pre-NFR including the two championships and two second-place results (1959 and 1968).
Glenn's father Will, was a famous steer roper in the 1920s in the era of Clay McGonigle and Blue Gentry, and taught Joe how to rope on the family ranch in Cochise County, Ariz. Glenn entered his first rodeo at age 14 in 1929 and became a member of the Rodeo Cowboy Association in 1935, taking part in his first RCA rodeo that year in Phoenix.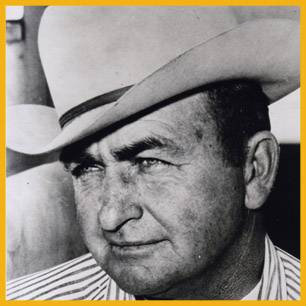 World Championships: 2
Team Roping: 1948, 1967
Born: November 23, 1914 Douglas, Arizona
Died: November  29, 1984 Douglas, Arizona
Joined the PRCA: 1935
NFR Qualifications: 7
California Rodeo Salinas / Salinas, CA
Team Roping: 1966
La Fiesta de los Vaqueros Rodeo / Tucson, Arizona
Team Roping: 1948, 1959, 1965, 1967