Stock Contractor • Inducted 2013
Rex "Bud" Kerby is a second-generation ProRodeo Hall of Fame selection, joining his father, D.A. "Swanny" Kerby, who was also inducted as a stock contractor in 1997.   The Kerbys' Bar T Rodeo Inc., has been a family operation since 1945, based in Moab, Utah, initially and later moving to Salt Lake City and Chester, Utah, where its stock roams on 2,500 acres of leased and owned land in central Utah.   Bud Kerby started in the rodeo business as a teenager, competing as a saddle bronc rider through the 1960s before becoming one of the sport's top pick-up men.
He and wife, Evelyn, bought the Bar T Rodeo operation from his parents, Swanny and Verda, in the mid-1980s and continued the family tradition. The Kerbys have had roughstock selected to compete at the NFR virtually every year since 1960.
Bar T's Sparrow was the Wrangler NFR Saddle Bronc Horse of the Year in 1990 and Fancy Pants earned the same award in 2011.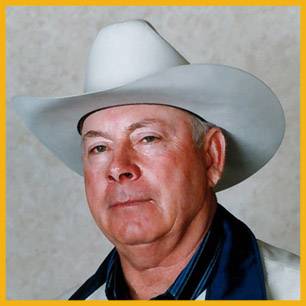 Born: June 10, 1940 in Moab, Utah
Died: October 10, 2010 in Salt Lake City, Utah