Steer Wrestling • Inducted 2014
One of the most accomplished bulldoggers of his generation, Byron Walker is part of a rare two-world championship household. He won his steer wrestling gold buckle in 1981 and his wife, Mary, was the barrel racing world champion in 2012.
Trained by his father, "Whitey Bob" Walker, and four-time World Champion Jim Bynum, Byron qualified for his first National Finals Rodeo at 19 – the first teenager ever to qualify for the NFR as a bulldogger – and went back the next year as the regular-season standings leader.
Over a career spanning four decades, Walker would make 16 trips to the NFR (1977-87, 1991, 1997-2000), an achievement surpassed only by Roy Duvall. He was among the top five in the world a total of seven times, including second-place finishes in 1979 and 1983, when he finished just $891 behind Joel Edmondson.
"Being second to Roy Duvall, that's a pretty good short list right there," Walker said, "but I think I am most proud of being a pretty good cowboy. I was good (in all different setups). My dad taught me everything I know about steer wrestling and Jim Bynum taught me how to win."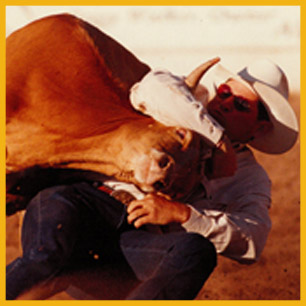 World Championships: 1
Steer Wrestling: 1981
RAM Circuit Finals Rodeo Champion
Texas Circuit:
All-Around: 1978, 1981
Steer Wrestling: 1978, 1979, 1981, 1982, 1985, 1993, 1999, 2000
Born: January 19, 1958 in Lawton, Oklahoma
NFR Qualifications: 16
California Rodeo Salinas / Salinas, CA
All-Around: 1981
Steer Wrestling: 1981
Cody Stampede / Cody, WY
All-Around: 1978
Deadwood Days of '76 Rodeo / Deadwood, SD
Steer Wrestling: 1981
Ellensburg Rodeo / Ellensburg, WA
Steer Wrestling: 1986
Grand National Stock Show & Rodeo / San Francisco, CA
Steer Wrestling: 1983
Iowa's Championship Rodeo / Sidney, IA
Steer Wrestling: 1982
La Fiesta de los Vaqueros Rodeo / Tucson, AZ
Steer Wrestling: 1978, 2000
Pendleton Round-Up / Pendleton, OR
All-Around: 1978
Steer Wrestling: 1984 (tie), 1985
Reno Rodeo / Reno, NV
Steer Wrestling: 1984
San Antonio Stock Show & Rodeo / San Antonio, TX
Steer Wrestling: 2000
Snake River Stampede / Nampa, ID
Steer Wrestling: 1998
West of the Pecos Rodeo / Pecos, TX
Steer Wrestling: 1997, 2000