Guymon, Oklahoma • Inducted 2015
The Pioneer Days Celebration has its roots in the Depression era of the early 1930s, when Guymon, Okla., was the epicenter of the "Dust Bowl." City fathers were looking for a way to bring visitors to town, and a reason to celebrate in the midst of hard times. They chose the anniversary of the Organic Act, which on May 1, 1890 made "No Man's Land" a part of the territory of Oklahoma. The first weekend of May was designated as Pioneer Days, and has been since 1933.
From the beginning, the rodeo has been the cornerstone of the Pioneer Days Celebration. Originally, it was held adjacent to the Grain Elevator downtown, with a temporary arena delineated by the cars and pickups that parked around the perimeter. Later, the rodeo moved to the newly constructed high school football stadium. A temporary arena was erected on the field, and the rodeo was held on the grass.
In the late 1960s, the Henry C. Hitch Pioneer Arena was constructed on city land along Sunset Lane. Situated in a natural draw, the arena provides a unique setting for Oklahoma's richest rodeo, "Where Champions Play the First Weekend in May."
The Guymon Pioneer Days Rodeo has experienced unprecedented growth in the 21st century with prize money rising in excess of $275,000. The very top contestants in ProRodeo come to Guymon each year and in 2002 the rodeo was voted the PRCA's Large Outdoor Rodeo of the Year.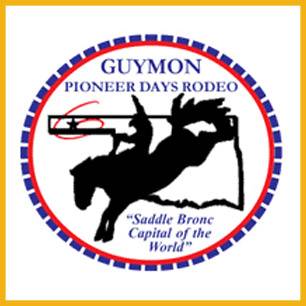 PRCA Large Outdoor Rodeo Committee of the Year
2002