Dodge City, Kansas • Inducted 2012
When the committee for the Dodge City (Kan.) Roundup decided to create a PRCA rodeo in 1977, it was with the idea that it would never be just another stop on the road. There would be big prize money, top stock and the best contract personnel in the sport – quality in every aspect of the production.
The formula was an immediate hit with fans and contestants, making Dodge City one of the most decorated events in ProRodeo history. It has nine times been honored as a PRCA Rodeo Committee of the Year, and six of those awards came in the days when there was only one category covering all 600-plus PRCA-sanctioned rodeos.
Dodge City shared the award in 1985 with Phoenix and Santa Maria, Calif., and shared it again with Reno, Nev., in 1987, but claimed the award outright in 1986 and from 1988-90. The Roundup won the Outdoor Rodeo Committee of the Year award in 1991-92 and its ninth PRCA award came in 2001 when it was voted the Large Outdoor Rodeo Committee of the Year.
The rodeo is annually the centerpiece of the Dodge City Days Festival, which is the second largest community event in the state of Kansas with a huge economic impact.
"The whole community bands together to make this rodeo what it has become," said Roundup President Dr. R.C. Trotter. "We have a core group of 50-60 and we have 400-500 volunteers the week of the rodeo, some of whom take vacation time to work the rodeo."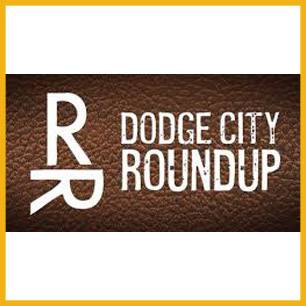 PRCA Rodeo Committee of the Year
1985, 1986, 1987, 1988, 1989, 1990, 1991, 1992
PRCA Large Outdoor Rodeo Committee of the Year
2001