Livestock • Inducted 2015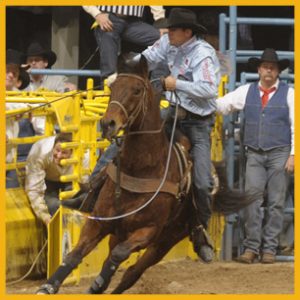 Travis Tryan's Precious Speck, best known as "Walt," is widely recognized as one of the best horses ever to carry a team roping header into an arena.
Walt was voted the American Quarter Horse Association/PRCA Team Roping Head Horse of the Year four times, in 2003 and then from 2007-09. He was also third in the balloting twice, all while helping Tryan become the youngest team roper ever to accrue $1 million in career earnings.
"This is like a family member going into the Hall of Fame," Tryan said. "When you have a horse for 10 years, and he's a huge part of your career, to see him go into the Hall is one of the coolest things that can happen."
Tryan rode Walt nine times at the Wrangler National Finals Rodeo (2001-09). His brother, Clay (a multiple-time world champion), rode Walt at the 2001 WNFR (also his first), as did King of the Cowboys Trevor Brazile – in 2005. Overall, Walt had 15 round wins at the WNFR.
"When I got Walt I was 19 years old, and when I first rodeoed on him I was 20 and made the Finals," Travis Tryan said. "We kind of started our careers at the same time, and I learned a lot from him. He was so good that all I had to do was go out and rope, and he took care of the rest."
While riding Walt at the 2008 WNFR, Travis Tryan and his partner, Cory Petska, tied the then-world record time of 3.5 seconds in the eighth round.
After coming back from colic surgery, Walt died April 24, 2010, of an aneurysm while warming up for morning slack at the Clovis (Calif.) Rodeo. He was 20.
AQHA Horse of the Year
2003, 2007, 2008, 2009