Contract Personnel • Inducted 2005
Slim Pickens was born Louis Bert Lindley Jr. in Kingsburg, California, on June 29, 1919. He started entering rodeos at 14, much to his father's dismay. To hide his activities, Pickens entered under a different name every week. One day, he asked "the feller in charge of the rodeo" to give him a good name and the man said, "Kid, why don't you sign up as Slim Pickens, `cause that's what it's gonna be!" And the nickname stuck.
Pickens started his rodeo career in the Cowboys' Turtle Association as a roughstock contestant. When a clown no-showed, Pickens filled in. He enjoyed it so much he made it a full-time gig, dressing up in a Spanish/Mexican Torero outfit and working the bulls Latin-style. Pickens was very proud of his time as a rodeo clown/bullfighter and his work at such top venues as The Cow Palace, The Calgary Stampede, Cheyenne Frontier Days and the Pendleton Round-up.
In his first film, Pickens worked with Errol Flynn in the 1950 movie Rocky Mountain. He appeared in more than 150 movies and television series. A few of his most impressive acting credits include Dr. Strangelove, Stagecoach with Ann Margaret and Bing Crosby, One-Eyed Jacks with Marlon Brando and The Getaway with Steve McQueen. Pickens is perhaps best known for his portrayal of Taggart in the 1974 hit comedy Blazing Saddles.
Pickens was once quoted as saying, "I plan to retire from the picture business only when they shovel dirt in my face. There's no use retiring if you like what you're doing and you're making money."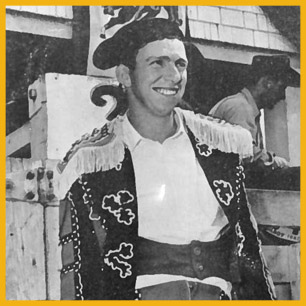 Born: June 29, 1919, in Kingsburg, California
Died: December 8, 1983 in Modesto, California