Contract Personnel • Inducted 2014
Miles Hare spent more than three decades throwing his body in the path of 2,000-pound beasts to protect rodeo cowboys before retiring in 2008, proving himself one of the most athletic bullfighters in the history of the sport.
Hare worked as a bullfighter at the National Finals Rodeo six times (1977, 1985, 1988-91) – making his first appearance at just 22 years old – and twice more as an alternate (1984, 1992).
He was the inaugural Wrangler World Champion Bullfighter in 1981 and shared that honor with fellow ProRodeo Hall of Famer Rob Smets in 1988, developing a style based on careful study and remembering bulls' moves.
"He's a cowboy saver – that's all he is," the late Quail Dobbs said of the Liberty, Texas resident. "There's no better man that I would trust."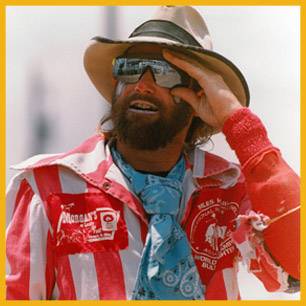 Wrangler World Champion Bullfighter
1981, 1988
Born: August 17, 1955 in Gordon, Nebraska