Contract Personnel • Inducted 2012
Jon Taylor, or "Chipmunk" as he was often known, was one of ProRodeo's foremost funnymen, riding into arenas from Fort Worth, Texas, to Pendleton, Ore., on a fiberglass horse named "Snort," earning laughs from the crowd and sticking around to protect the bull riders as a barrelman.
Taylor, a native Californian, was selected by the contestants to be the National Finals Rodeo barrelman in 1974, 1979 and 1983 and served as the alternate in 1980-81. He also worked the barrel at the National High School Finals Rodeo and at the Canadian National Finals Rodeo a record 16 times.
Taylor and Ash Cooper are the only barrelmen ever selected to work both the NFR and the CNFR.
In 1979, Taylor was voted the PRCA Clown of the Year Award, which he said was "just like winning an Oscar or an Emmy." In his busiest years he was on the road 11 months, putting 35,000 miles on his home-on-wheels, in addition to 250 hours on commercial flights.
He served on the PRCA Board of Directors from 1982-85 and worked as the NFR saddle horse boss on general manager Shawn Davis' staff for parts of four decades.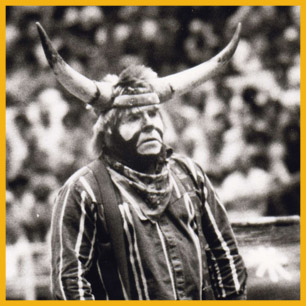 PRCA Clown of the Year
1979
Born: August 22, 1941 in Orange, California