Contract Personnel • Inducted 2013
Joe Baumgartner once jokingly told a reporter, "I know more bulls than I do people," and while that might not be strictly true, it may be safely said that very few men had a better working knowledge of bucking bulls and their tendencies. Baumgartner, of Red Bluff, Calif., won the PRCA Bullfighter of the Year Award each of the first four years it was given (2004-07) and was selected to work the Wrangler National Finals Rodeo a record 14 times (1992-2004 and 2006) before retiring in 2011 after his 19th appearance at the Pendleton (Ore.) Round-Up.
A native of the San Francisco Bay Area who didn't become involved in rodeo until his high school years, Baumgartner was a natural at his chosen profession from the beginning, always driven by the single purpose of keeping bull riders safe from injury.
"What made Michael Jordan great? What made Joe Montana great?" stock contractor John Growney said. "Whatever that was, is what made Joe Baumgartner great."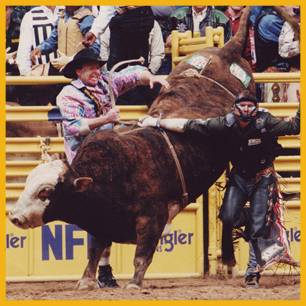 PRCA Bullfighter of the Year
2004, 2005, 2006, 2007
Born: September 9, 1966 in Oakland, California