Contract Personnel • Inducted 2011
J.W. Stoker built a career spanning more than seven decades by being equally adept as a trick rider and trick roper. He started when he was 9 years old under the tutelage of Pinky Barnes, who worked in Wild West shows and the movies. Stoker took to it so well that he got his first job at 10 and show producer Clyde Miller sealed the deal by hiring both Stoker's parents to travel with the show.
His skill as a juvenile trick rider got his picture on the Wheaties cereal box when he was 12, and Stoker was named the PRCA Specialty Act of the Year in 1985 and 1986, earning the second of those awards when he was 59.
Not only did Stoker work the biggest rodeos – Cheyenne, Madison Square Garden, Calgary, Boston Garden, Denver, Fort Worth, and Salinas – but he performed in Western shows all over the world from Australia to Venezuela and Great Britain.'
In 1973, Stoker spent seven months working for Casey Tibbs' Wild West Show in Japan and later for the state of Nevada as a means to publicize the state and encourage Japanese tourism.
Stoker won the Will Rogers Centennial Trick Roping Contest in 1979 in Claremore, Oklahoma. He also trick roped in The Kansan, the Clint Eastwood film Bronco Billy and in Bus Stop with Marilyn Monroe.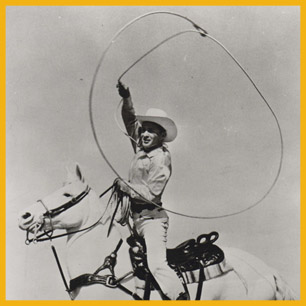 Specialty Act of the Year
1985, 1986
Born September 30, 1927 in Colorado Springs, Colorado
Died April 21, 2022 in Weatherford, Texas