Bareback Riding • Inducted 2014
Wayne Herman looked every inch the unvanquished warrior when he collected his gold buckle as the 1992 world champion bareback rider, with six stitches in his face, a black eye, a concussion and an injured riding arm, all coming as the result of a fifth-round wreck at the National Finals Rodeo in Las Vegas.
Leading Ken Lensegrav by a mere $1,596 entering the NFR, Herman tied for second place in the average standings, bouncing back from that scary mid-rodeo incident on the Las Vegas dirt to place second in Round 8, win Round 9 and hold off the field in dramatic fashion to finish the year with a career-best $122,949.
One of the most consistent bareback riders of his generation, the Dickinson, N.D., native had six finishes among the top five bareback riders in the world (1985, 1988-91, 1995) in addition to his world championship season.
A year before breaking through to win the gold buckle, Herman won the NFR average and finished second to Clint Corey, just $1,050 shy of the title.
Herman qualified for the NFR 11 times – missing the 1993 rodeo due to injury – and had 15 round wins.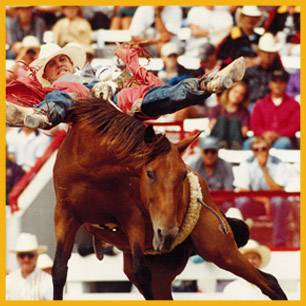 World Championships: 1
Bareback Riding: 1992
National Finals Rodeo Average Champion
Bareback Riding: 1991
RAM Circuit Year-End Champion
Badlands Circuit:
Bareback Riding: 1990, 1992, 1995, 1996
Born: January 10, 1964 in Golden Valley, North Dakota
NFR Qualifications: 11
Buffalo Bill Rodeo / North Platte, NE
Bareback Riding: 1998
California Rodeo Salinas / Salinas, CA
Bareback Riding: 1990
Clovis Rodeo / Clovis, CA
Bareback Riding: 1996 (tie)
Deadwood Days of '76 Rodeo / Deadwood, SD
Bareback Riding: 1991
Dodge City Roundup / Dodge City, KS
Bareback Riding: 1984, 1992
Fort Worth Stock Show & Rodeo / Fort Worth, TX
Bareback Riding: 1991
Iowa's Championship Rodeo / Sidney, IA
Bareback Riding: 1996
La Fiesta de los Vaqueros Rodeo / Tucson, AZ
Bareback Riding: 1991
National Western Stock Show & Rodeo / Denver, CO
Bareback Riding: 1985, 1987
Ogden Pioneer Days Rodeo / Ogden, UT
Bareback Riding: 1988, 1992 (tie)
Pendleton Round-Up / Pendleton, OR
Bareback Riding: 1988 (tie)
Redding Rodeo / Redding, CA
Bareback Riding: 1988, 1998
Reno Rodeo / Reno, NV
Bareback Riding: 1992
Snake River Stampede / Nampa, ID
Bareback Riding: 1994