Tie-Down Roping • Class of 2020
Cody Ohl blazed into the ProRodeo ranks in 1994 by winning Rookie of the Year and his first trip to the National Finals Rodeo. The young Texas roper had been planning his career since he was 15 and winning National High School Rodeo awards.
It would take Ohl a few years to win his first gold buckle. He edged out Fred Whitfield to capture the 1997 Tie-Down World Title by $5,031. To prove that first win was no fluke, Ohl roared through 1998 and captured a second title.
Ohl had another record-setting year in 2001 as he added steer roping and team roping to his agenda in order to compete for the All-Around title. In the ninth round of the Finals, Ohl missed his calf on the first loop. A second loop caught the calf by the hind legs. As Ohl dismounted, he twisted his knee, tearing two major ligaments. He managed to crawl to the calf, cut the rope, stand and flank the calf, and finish the tie with a time of 40.3 seconds. Ohl had to be carried from the arena by the Justin Sportsmedicine Team. However, he had amassed enough money earlier in the week to secure both the tie-down title and the All-Around title. He accepted both buckles from crutches on the 10th night.
Not one to stay inactive, Ohl battled through rehab and was back on the rodeo trail late in 2002. He continued to win and qualify for National Finals Rodeos, capturing his fifth and sixth tie-down roping titles in 2003 and 2006. He only missed one Finals appearance between 1994 and 2014. He entered an elite group when he passed the $3 million earnings mark in 2012.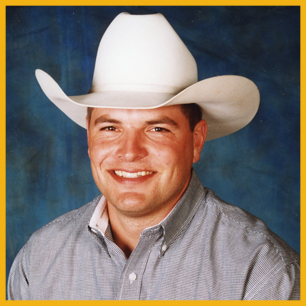 World Championships: 6
All-Around: 2001
Tie-Down Roping: 1997, 1998, 2001, 2003, 2006
National Finals Rodeo Average Champion
All-Around: 1999
Tie-Down Roping: 1998, 2006, 2007
Rookie of the Year
Overall and Tie-Down: 1994
RAM Circuit Finals Rodeo Champion
Tie-Down Roping: 1997
RAM Circuit Year-End Champion
Texas Circuit:
All-Around:2000, 2001
Tie-Down Roping: 2007
Born: September 21, 1973 in Rosenburg, Texas
Joined PRCA: 1994
NFR Qualifications: 20
Cheyenne Frontier Days / Cheyenne, WY
All-Around: 1999, 2001
Tie-Down Roping: 1998, 2001, 2009
Clovis Rodeo / Clovis, CA
Tie-Down Roping: 2004
Cody Stampede / Cody, WY
Tie-Down Roping: 2013
Deadwood Days of '76 Rodeo / Deadwood, SD
Tie-Down Roping: 2000
Dodge City Roundup / Dodge City, KS
Tie-Down Roping: 2003, 2006, 2011, 2014
Ellensburg Rodeo / Ellensburg, WA
All-Around: 1997, 1999
Steer Roping: 1997
Tie-Down Roping: 1996, 1999, 2015
Fort Worth Stock Show & Rodeo / Fort Worth, TX
Tie-Down Roping: 2003 (tie), 2007
Greeley Stampede / Greeley, CO
Tie-Down Roping: 2001
Guymon Pioneer Days Rodeo / Guymon, OK
All-Around: 2000, 2003
Tie-Down Roping: 2003
National Western Stock Show & Rodeo / Denver, CO
Tie-Down Roping: 1997
Ogden Pioneer Days Rodeo / Ogden, UT
Steer Roping: 2000
Tie-Down Roping: 2006
Pendleton Round-Up / Pendleton, OR
All-Around: 2001
Steer Roping: 2010
Reno Rodeo / Reno, NV
All-Around: 2001
Tie-Down Roping: 2011
San Antonio Stock Show & Rodeo / San Antonio, TX
Tie-Down Roping: 2011
West of the Pecos / Pecos, TX
Tie-Down Roping: 1994, 2007
World's Oldest Rodeo Prescott Frontier Days / Prescott, AZ
Tie-Down Roping: 1999