Team Roping • Inducted 2016
Jerold Camarillo, along with older brother Leo, revolutionized team roping while qualifying for the National Finals Rodeo 17 times (1968-83, 1985-86) and establishing himself as one of the elite heelers of his generation.
Apart from winning the team roping world championship in 1969 at the tender age of 22 – the first member of his accomplished family to earn a gold buckle – Jerold finished in the top three in the world standings five times and he was the reserve world champion in 1977 after finishing the regular season in first place.
Camarillo won the average at the 1975 National Finals Rodeo in Oklahoma City, Okla., and the California Rodeo Salinas titles in 1969 and 1973.
Leo was a 1979 ProRodeo Hall of Fame inductee and a five-time world champion (team roping, 1972-73, 1975, 1983; all-around, 1975). Jerold is 15 months younger than Leo.
The Camarillo brothers learned to rope from their father, Ralph, a champion roper in California rodeos before he turned to raising stock.
When the boys were youngsters, their father required that the pair spend an hour each day practicing with their ropes.
One of the first targets was a pop bottle, brought into the living room if the weather outside was cold. From the bottle, they graduated to roping chickens and finally calves.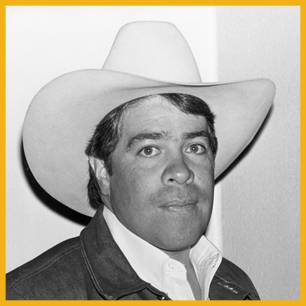 World Championships: 1
Team Roping: 1969
National Finals Rodeo Average Champion
Team Roping: 1975
Born: April 1, 1947 in Santa Ana, California
NFR Qualifications: 17
California Rodeo Salinas / Salinas, CA
Team Roping: 1969, 1973
Cody Stampede / Cody, WY
Team Roping: 1975
La Fiesta de los Vaqueros Rodeo / Tucson, AZ
Team Roping: 1969
National Western Stock Show & Rodeo / Denver, CO
Team Roping: 1972, 1977
Red Bluff Round-Up / Red Bluff, CA
Team Roping: 1977
Redding Rodeo / Redding, CA
All-Around: 1978
Team Roping: 1988 (tie)
Tie-Down Roping: 1978, 1979, 1981
Reno Rodeo / Reno, NV
All-Around: 1974
Rowell Ranch Rodeo / Hayward, CA
All-Around: 1982
Team Roping: 1985
Snake River Stampede / Nampa, ID
Team Roping: 1982
West of the Pecos Rodeo / Pecos, TX
Team Roping: 1969
World's Oldest Rodeo Prescott Frontier Days / Prescott, AZ
Team Roping: 1970, 1974, 1976