Team Roping • Inducted 2018
Rich Skelton bought his PRCA card in 1986 and at the time of his induction, he was still competing. He made his first National Finals Rodeo appearance in 1990 heeling for Tee Woolman. When Woolman decided to slow down in late 1997, Skelton joined with header Speed Williams. The duo went on to break or tie all team roping records in their nine-year partnership.
Skelton also competed as a calf and steer roper, finishing fourth in the All-Around race in 2000. He continued to place in the top 15 for the next seven years. Skelton has 22 NFR qualifications on his résumé (1990-2006, 2009-10, 2013-15) and a 2007 National Finals Steer Roping qualification.
Skelton credits part of his success to his horses, four-time PRCA/AQHA Heel Horse of the Year "Roany" and 2004 PRCA/AQHA Heel Horse of the Year Chili Dog.
"This is cool, and I don't know when this will sink in," said Skelton. "I wanted to make the NFR and I wanted to win the world, and then things just kept going our way. When you look back at it, we had good horses, and everything was set up at that time and that's all we thought about and that's all we did was rope. To me, we had so much success because Speed changed to heading and started roping fast and I just tried to be consistent."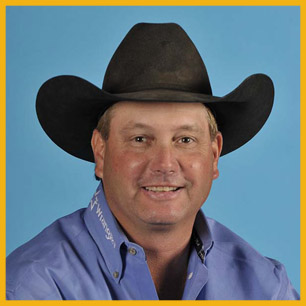 World Championships: 8
Team Roping: 1997, 1998, 1999, 2000, 2001, 2002, 2003, 2004
National Finals Rodeo Average Champion
Team Roping: 2001
RAM Circuit Finals Rodeo Champion
Team Roping: 1997, 2001, 2003
RAM Circuit Year-End Champion
Team Roping: 1987, 1993, 1996, 1998, 1999, 2000, 2002, 2009
Born: June 18, 1966 in Electra, Texas
Joined the PRCA: 1986
NFR Qualifications: 22
NFSR Qualifications: 1
Click  here for more career information.
Black Hills Roundup / Belle Fourche, SD
Team Roping: 1997
California Rodeo Salinas / Salinas, CA
Team Roping: 1998
Cheyenne Frontier Days / Cheyenne, WY
Team Roping: 2003
Deadwood Days of '76 Rodeo / Deadwood, SD
Steer Roping: 2007
Dodge City Roundup / Dodge City, KS
All-Around: 2002
Team Roping: 1992
Ellensburg Rodeo / Ellensburg, WA
Steer Roping: 1996
Team Roping: 1990, 2003
Grand National Stock Show & Rodeo / San Francisco, CA
Team Roping: 1990
Greeley Stampede / Greeley, CO
Team Roping: 1993, 2003
Guymon Pioneer Days Rodeo / Guymon, OK
Team Roping: 1995
National Western Stock Show & Rodeo / Denver, CO
Team Roping: 2003
Ogden Pioneer Days Rodeo / Ogden, UT
Team Roping: 2002
Pendleton Round-Up / Pendleton, OR
Steer Roping: 2007
Team Roping: 1997
Red Bluff Round-Up / Red Bluff, CA
Team Roping: 2006 (tie)
Reno Rodeo / Reno, NV
Team Roping: 2000
San Antonio Stock Show & Rodeo / San Antonio, TX
Team Roping: 1996, 2014
Snake River Stampede / Nampa, ID
Team Roping: 2000 (tie)
West of the Pecos / Pecos, TX
Team Roping: 1990, 1999
World's Oldest Rodeo Prescott Frontier Days / Prescott, AZ
Team Roping: 1994, 2000, 2004