Steer Wrestler • Inducted 2023
Luke Branquinho was raised on a seven-generation family ranch in Los Alamos, California. John and Brandy Branquinho's third son followed the lead of big brothers, Tony and Casey, and grew up roping. He started wrestling steers at 11, with the help of family friend John Black, and because he was so small at the time learned supreme technical skills. When Luke grew into his 6-foot, 270-pound fighting shape, he had the skills and the size to take on any steer. With flawless footwork, he could stay up over smaller steers, and his stout adult stature also allowed him the option of dropping anchor on bigger, stronger steers. That unstoppable versatility led to an era of bulldogging domination for Branquinho.
Branquinho won five gold buckles in 2004, 2008, 2011, 2012 and 2014. He made a mighty splash as the 2000 Professional Rodeo Cowboys Association Overall and Steer Wrestling Rookie of the Year and missed making his first National Finals Rodeo that year by a mere $1,300. He went on to qualify for 14 NFRs between 2001 and 2015, and won the NFR average in 2008, 2011 and 2014. Branquinho also won a record 25 NFR go-rounds.
An eight-time California Circuit steer wrestling champion in 2001, 2002, 2004, 2006-09 and 2012, Branquinho also did his native Golden State proud as the 2009 and 2010 National Circuit Finals Rodeo steer wrestling titlist.
After a string of injuries sent him to the sidelines in several straight seasons, Branquinho called it a career in 2022. Not one to complain, the cowboy who rodeoed with an insulin pump in his back pocket and never let Type 1 diabetes slow him down transitioned seamlessly into TV commentary becoming a popular addition to rodeo telecasts in the US and Canada.
Always a fan favorite, Luke's world-famous Branquinho Booty Shake brought the house down after every winning run. And with coast-to-coast wins in the US and Canada, there were countless runs to celebrate. Famous for finding a way to always outdo himself, Branquinho set season and NFR steer wrestling earnings records repeatedly over course of his storied career. It was never over until Luke had the last word.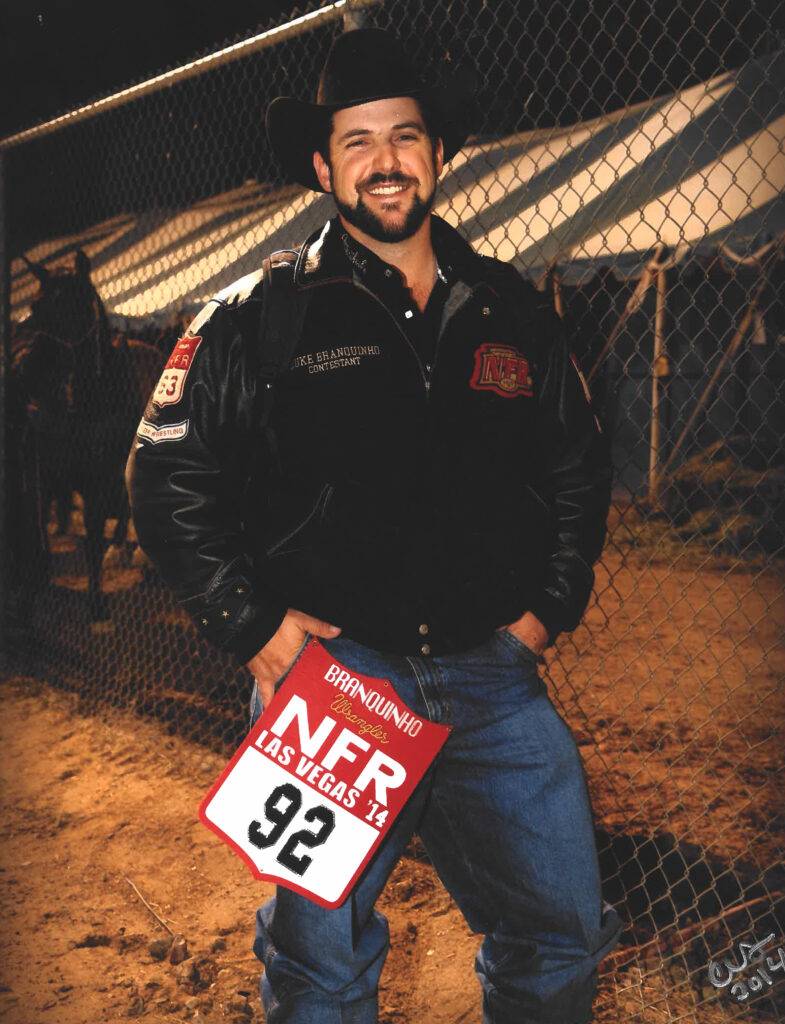 Accolades
World Championships: 5
Steer Wrestling: 2004, 2008, 2011, 2012, 2014