Notable • Class of 2022
Cindy Rosser joined the Girls Rodeo Association (GRA) now the Women's Professional Rodeo Association (WPRA) in 1969 and served 20-plus years on the Board of Directors.
The daughter of ProRodeo Hall of Fame stock contractor Cotton Rosser, she grew up horseback and rodeo has remained her life's work. A staunch supporter of the WPRA for decades Rosser worked every facet of the rodeo business. From a competitor winning the California Circuit Barrel Racing title in 1982 to helping put on some of the biggest rodeos in the PRCA, she had a hand in rodeo production all her life.
In 1986 she was named the PRCA Secretary of the Year, in 1998 she was selected as the NFR Rodeo Secretary and in 2012 was the Ram National Circuit Finals Rodeo secretary. She also carried the American flag in the opening ceremonies and trained numerous horses to jump through paper, stand in a Liberty Bell, a birthday cake, a ring of fire, and more. She produced and designed openings and sponsor flags at the NFR for 10 years.
In 1995, she was named the Coca-Cola WPRA Woman of the Year, in 2015 she received the Lenora Reimers Heritage Award through the WPRA, in 2019 was honored with the Tad Lucas Award from the National Cowboy Museum and joined her father once again in 2020 winning the Donita Barnes Lifetime Achievement award from the PRCA.
Rosser, a resident of Marysville, California, and an integral part of the family-owned Flying U Rodeo Company, served on the California Circuit Board for more than 25 years and served on the American Bucking Bull, Inc. (ABBI) Board of Directors. She was the first recipient of the ABBI Ladies Lifetime Achievement Award.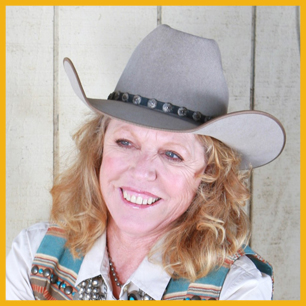 Donita Barnes Lifetime Achievement Award
2020
Born: 1954 in Yuba City, California