Notable • Inducted 2023
As a young boy, Brian D. (Butch) Knowles spent his summers at his family's remote Eastern Oregon Drewsey ranch. It was there that the fire was lit and the dream of being a Cowboy began while listening to a live radio broadcast of the Snake River Stampede. It wasn't long after that he was calf riding in the Western States Junior Rodeo Association. Throughout Junior Rodeo, and Oregon High School Rodeo, he entered all the events and earned multiple event championships including the 1972 and 1973 Oregon High School All-Around Cowboy title. He won the 1973 National High School All-Around title, followed by a NIRA Walla Walla Community College career where he dominated all 3 riding events and the All-Around titles in the Northwest Region. He was runner-up to the 1975 and 1977 NIRA National All-Around titles.
In 1974, he purchased his PRCA permit and without hesitation entered all 3 riding events. He filled his permit quickly after qualifying for the short round and placing in the bull riding at both Ellensburg and Pendleton. Throughout his career, he won saddle bronc championships at Calgary, Ponoka, Salinas, Pendleton, St. Paul, Cow Palace, Greeley, Red Bluff, Oakdale, Livermore, Caldwell, Kalispell, Lewiston, and many more throughout the Northwest. He won multiple Columbia River Circuit Saddle Bronc and All-Around titles. He retired the Harley Tucker Memorial Trophy after winning it 3 times. He qualified 4 times for the National Finals Rodeo in 1981, 1983, 1986, and 1987. He won the NFR Saddle Bronc Average title in 1987. He was a member of the Calgary 1988 Olympics USA Gold Medal Team where he competed in saddle bronc riding and also rode in the bull riding for Lane Frost. Although he was best known as a saddle bronc rider, he loved bull riding and rode Christensen Brother's Bull of the Year "Oscars Velvet" for 94 points at Longview. He retired from competition in 1991 with a second Pendleton Round-Up saddle bronc title.
Butch was still competing when a commentating opportunity arose. A television booth was not in his plan. His television broadcasting career started off with a famous quote from his good friend Lewis Field. "Give it a try-you never know what it might lead to." And Lewis was right, Butch had no idea that this next adventure would be an opportunity of a lifetime.  Butch's first television broadcast job was the 1988 CNFR at Bozeman working alongside Red Steagall on CBS Sports Spectacular. He also taught Wrangler judging seminars with Jack Hannum. He credits Jack as being crucial in helping him improve and enhance his communication skills. For the past 33 plus years, he has been a familiar voice of the NFR telecast. Throughout his career, hundreds of shows have been featured on 12 different television networks. With the help of talented accomplished crews, Butch has had the pleasure of educating and entertaining rodeo fans by simply sharing his knowledge and passion about a sport that has given him one heck of a good ride.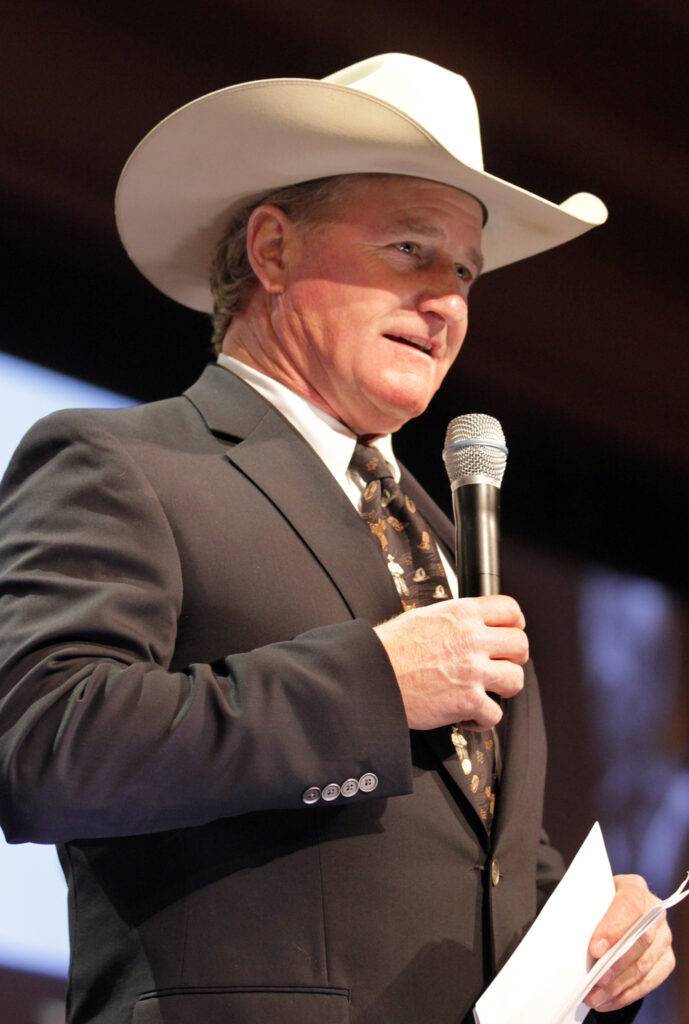 Born May 11, 1955, in Klamath Falls, Oregon