Contract Personnel • Inducted 2018
Luke Leon Coffee grew up around horses, rodeo, and football. He competed as a junior rodeo contestant in bull riding, bareback riding, steer wrestling, and calf roping. He joined the U.S. Army after high school and served for three years.
After encouragement from friend and bullfighter Michael Moore, Coffee began fighting bulls instead of riding them. His signature act of dancing in front of an angry bull earned him the nicknames "Disco Bullfighter" and "Boogie Man." As a PRCA Gold Card Member and NFR barrel man, Coffee enjoyed a long and lively career in ProRodeo as one of only three cowboys to be both a barrel man and a bullfighter at the NFR.
Since 1973, the Texas cowboy fought bulls at the NFR twice (1979, 1984) and was a barrel man at the NFR in 1991, 1994 and 1997. Coffee won PRCA Clown of the Year in 1983 and was in the top three every year from 1984-2001. Coffee also worked at the first National Circuit Finals Rodeo in 1987, the Texas Circuit Finals Rodeo (1980-82, 1992, 1996-97, 2003-04) and the Canadian Finals Rodeo twice (1985-86).
Coffee has worked on the movie sets of 8 Seconds, My Heroes Have Always Been Cowboys and Jericho (2000). He visits children's hospitals and runs a small ranch in his off time.
"I enjoy putting smiles on faces, and my motto of life is God put me on Earth to do two things – make people happy and help people out, and I can do both in the arena," Coffee said.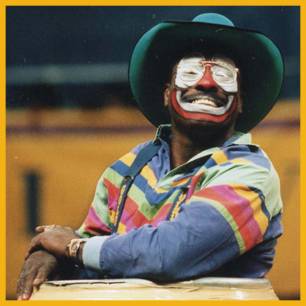 PRCA Clown of the Year
1983
Born: October 11, 1954 in Blanco, Texas.