Bull Riding • Class of 2020
Gary William Kirby, better known as Butch, started his rodeo career at age four when he joined his brothers in a trick riding troupe led by his mother, Mildred. By 16, he had changed his specialty to bull riding. Kirby credits the agility and balance of trick riding as helping with his transition to rodeo's roughest event.
In 1973, Kirby earned his first trip to the National Finals Rodeo at age 18. (At the time, the youngest qualifier in any roughstock event.) It would take a few more trips to the Finals before Kirby earned his world title. In 1975, Kirby and his brothers, Sandy and Kaye, became the first three brothers to qualify for a National Finals Rodeo in the same year. Kirby finally won his title in 1978 in a battle against reigning champion Don Gay. He won $15,000 at that Finals, placing him in the top spot. (In 1978, World Championships were determined by money won at the National Finals Rodeo.)
Kirby would make three more trips to the National Finals Rodeo before transitioning to his third career in rodeo. Kirby began judging rodeos to earn money while recovering from an injury in 1987. He became a Pro Official in 1993 and has served in that capacity at many of the major rodeos in the country. He has been a National Finals Rodeo Official for 30 years.
Through this long and decorated career, Kirby has participated in every major rodeo as either a contract act, bull rider, or judge.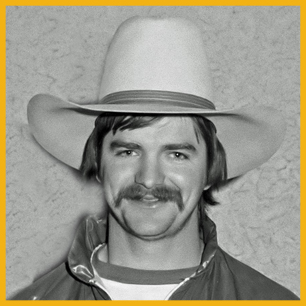 World Championships: 1
Bull Riding: 1978
RAM Circuit Finals Rodeo Champion
Texas Circuit:
Bull Riding: 1977
Born: April 24, 1955 in Woodstown, New Jersey
Clovis Rodeo / Clovis, CA
Bull Riding: 1974
Deadwood Days of '76 Rodeo / Deadwood, SD
Bull Riding: 1973
Fort Worth Stock Show & Rodeo / Fort Worth, TX
Bull Riding: 1977
Grand National Stock Show & Rodeo / San Francisco, CA
Bull Riding: 1981
National Western Stock Show & Rodeo / Denver, CO
Bull Riding: 1982
Ogden Pioneer Days Rodeo / Ogden, UT
Bull Riding: 1978
Pendleton Round-Up / Pendleton, OR
Bull Riding: 1978 (tie)
Reno Rodeo / Reno, NV
Bull Riding: 1980
West of the Pecos Rodeo / Pecos, TX
Bull Riding: 1974 (tie)