Barrel Racing • Inducted 2018
Kristie Peterson's rise to stardom in the Women's Professional Rodeo Association started in 1989, when she was working as a captain at her local sheriff's department overseeing the jail and dispatchers but decided to try her hand at professional rodeo after earning titles in youth and amateur rodeo. Peterson jumped into the fray with a talented gelding she'd trained and brought through futurity competitions, a horse named French Flash Hawk, better known as Bozo.
Following on the heels of Charmayne James and her great horse, Scamper, Peterson and Bozo ended James' streak of 10 straight world titles, claiming the first of four WPRA world titles in 1994. She finished second in 1995 before rattling off three straight championships in 1996-98.
In addition to the four WPRA world titles, the Peterson-Bozo duo finished as reserve champion three times (1993, 1995, 1999), earned five consecutive National Finals Rodeo average titles (1994-98) and four Dodge National Circuit Finals Rodeo titles (1992, 1994-95, 1998). Together, the pair won nearly every major rodeo in the country, shining particularly bright when close to home at Denver, Colorado Springs, Colo., and Cheyenne, Wyo.
Peterson and Bozo placed in 20 consecutive rounds at the NFR in 1996 and 1997, a feat unmatched in history at the time of induction. Bozo retired from competition after winning Rodeo Houston for the third time in 2003 and Peterson soon followed, though she continued to ride and train horses. Peterson recorded $1,346,861 in career earnings, becoming the second WPRA cowgirl to cross $1 million.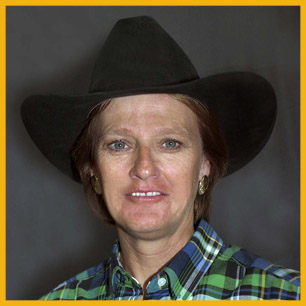 World Championships: 4
Barrel Racing: 1994, 1996, 1997, 1998
RAM National Circuit Finals Rodeo Champion
Barrel Racing: 1992, 1994, 1995, 1998
Born: October 10, 1955 in Dayton, Ohio
Buffalo Bill Rodeo / North Platte, NE
Barrel Racing: 1994, 1997, 1998
Cheyenne Frontier Days / Cheyenne, WY
Barrel Racing: 1993, 1996, 1997, 1998
Cody Stampede / Cody, WY
Barrel Racing: 1995, 1996
Dodge City Roundup / Dodge City, KS
Barrel Racing: 1993, 1994, 1996, 1997, 1998
Fort Worth Stock Show & Rodeo / Fort Worth, TX
Barrel Racing: 2001
Grand National Stock Show & Rodeo / San Francisco, CA
Barrel Racing: 1994, 1995
Greeley Stampede / Greeley, CO
Barrel Racing: 1993, 1994, 1995, 1996, 2000, 2003
Guymon Pioneer Days Rodeo / Guymon, OK
Barrel Racing: 1997, 1998
La Fiesta de los Vaqueros Rodeo / Tucson, AZ
Barrel Racing: 1994
National Western Stock Show & Rodeo / Denver, CO
Barrel Racing: 1993, 1996, 2002
Ogden Pioneer Days Rodeo / Ogden, UT
Barrel Racing: 1995 (tie), 1996
Redding Rodeo / Redding, CA
Barrel Racing: 1997
Reno Rodeo / Reno, NV
Barrel Racing: 1995, 1997, 1998, 1999
Rowell Ranch Rodeo / Hayward, CA
Barrel Racing: 1997
San Antonio Stock Show & Rodeo / San Antonio, TX
Barrel Racing: 1996
Snake River Stampede / Nampa, ID
Barrel Racing: 1998