Barrel Racing • Inducted 2017
Charmayne James grew up in Clayton, N.M., the home of the very first barrel racing National Finals Rodeo. Her historic career was set in motion in 1982 when a bay gelding, Gills Bay Boy "Scamper," found a home in James' barn after paying just $1,200. Together they became the most iconic duo in the equine industry, dominating the barrel racing ranks from 1984 until his retirement in 1993.
James won the first of 10 world titles at the age of 14 in 1984. The following year, she and Scamper would make a historic run on Friday the 13th. As James and Scamper entered the arena, Scamper caught the bridle on the side of the gate causing the Chicago screw to come out. At the first barrel, people started to realize what was happening with the broken bridle and by the third barrel, Scamper spit the bit out with the bridle around his neck. The duo won the round and it became a legendary moment in NFR history.
James was the first WPRA member to wear the coveted No. 1 NFR back number in 1987 and became the first barrel racer to win $1 million in career earnings. James and Scamper won the NFR average title six times (1984, 1986-87, 1989-90 and 1993). In 1996, Scamper became the first barrel horse inducted into the ProRodeo Hall of Fame. James and Scamper were featured in countless publications over the years including Sports Illustrated and Guinness Book of World Records.
James added a cherry on top of her illustrious career winning her 11th WPRA world title and seventh NFR average title aboard Cruiser (Cruisin on Six) in 2002.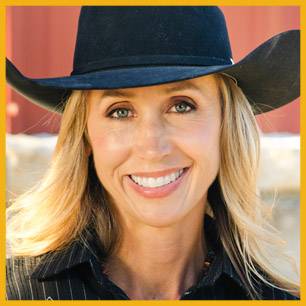 World Championships: 11
Barrel Racing: 1984, 1985, 1986, 1987, 1988, 1989, 1990, 1991, 1992, 1993, 2002
RAM National Circuit Finals Rodeo Champion
Barrel Racing: 1987, 1996
Buffalo Bill Rodeo / North Platte, NE
Barrel Racing: 1986
California Rodeo Salinas / Salinas, CA
Barrel Racing: 1990, 1981, 2000, 2002
Cheyenne Frontier Days / Cheyenne, WY
Barrel Racing: 2000
Clovis Rodeo / Clovis, CA
Barrel Racing: 1987
Dodge City Roundup / Dodge City, KS
Barrel Racing: 1983
Ellensburg Rodeo / Ellensburg, WA
Barrel Racing: 1984, 1988, 1989, 1990, 1991, 1994, 2002
Grand National Stock Show & Rodeo / San Francisco, CA
Barrel Racing: 2000
Greeley Stampede / Greeley, CO
Barrel Racing: 1986
La Fiesta de los Vaqueros Rodeo / Tucson, AZ
Barrel Racing: 1989, 1997, 2003
National Western Stock Show & Rodeo / Denver, CO
Barrel Racing: 1987, 1990, 2000
Ogden Pioneer Days Rodeo / Ogden, UT
Barrel Racing: 1992, 1993
Pendleton Round-Up / Pendleton, OR
Barrel Racing: 2002, 2003
Red Bluff Round-Up / Red Bluff, CA
Barrel Racing: 1986
Redding Rodeo / Redding, CA
Barrel Racing: 1993
Reno Rodeo / Reno, NV
Barrel Racing: 1984, 1988, 2001
Rowell Ranch Rodeo / Hayward, CA
Barrel Racing: 1994
San Antonio Stock Show & Rodeo / San Antonio, TX
Barrel Racing: 1985, 1987 (tie)
Snake River Stampede / Nampa, ID
Barrel Racing: 1985, 1991