Steer Wrestling • Inducted 2015
Although Harry Charters didn't buy his RCA permit until 1958, at the relatively advanced age of 33, he managed to compete at an elite level for a decade. He won his only world championship as a rookie steer wrestler in 1959, and went on to put nine NFR qualifications on his career résumé – six in bulldogging and three in tie-down roping.
He barely missed a second world steer wrestling title in 1962, when he finished second by $773 to fellow Class of 2015 ProRodeo Hall of Fame inductee Tom Nesmith.
"If he would have started (with the RCA) as a young guy," 11-time World Champion Dean Oliver said, "He probably would have won more than anyone in the history of bulldogging."
At 6-6, 250 pounds, Charters was perhaps the biggest world champion in rodeo history and yet was described by his peers as "dazzling fast and fleet of foot."
Charters was also well-known for his innovative approach to timed-event technique. He is said to be the first calf roper to dismount from the right side of his horse and his bulldogging style was uniquely his own, giving the appearance that he was picking up the steer, spinning it around and flinging it to the ground.
His Pendleton (Ore.) Round-Up steer wrestling record of 5.0 seconds stood for 11 years.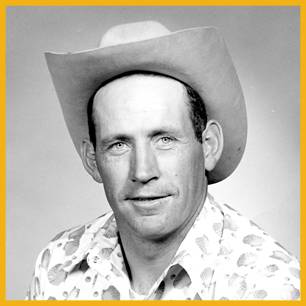 World Championships: 1
Steer Wrestling: 1959
Born: April 16, 1925 in Nampa, Idaho
Died: July 7, 1981 in Boise, Idaho
Joined the PRCA: 1958
NFR Qualifications: 9
California Rodeo Salinas / Salinas, CA
Tie-Down Roping: 1963
Cheyenne Frontier Days / Cheyenne, WY
Steer Wrestling: 1962
Clovis Rodeo / Clovis, CA
Steer Wrestling: 1961
Tie-Down Roping: 1960
Ellensburg Rodeo / Ellensburg, WA
All-Around: 1958
Steer Wrestling: 1958
Tie-Down Roping: 1965
Fort Worth Stock Show & Rodeo / Fort Worth, TX
All-Around: 1964
Pendleton Round-Up / Pendleton, OR
All-Around: 1960, 1961
Steer Wrestling: 1959 (tie), 1961
Tie-Down Roping: 1960, 1961
Red Bluff Round-Up / Red Bluff, CA
Steer Wrestling: 1960
Redding Rodeo / Redding, CA
Steer Wrestling: 1962
Tie-Down Roping: 1961, 1962
Reno Rodeo / Reno, NV
Tie-Down Roping: 1966
Rowell Ranch Rodeo / Hayward, CA
Steer Wrestling: 1962
Snake River Stampede / Nampa, ID
All-Around: 1962
Steer Wrestling: 1959, 1962