Saddle Bronc Riding • Inducted 2012
Robert Etbauer was the first of the legendary Etbauer brothers to venture out from their home in rural South Dakota and establish himself as a champion on the rodeo road – the eldest brother who took the lead. He was the PRCA Saddle Bronc Riding Rookie of the Year in 1985 and won back-to-back world championships in 1990-91.
A dozen times he qualified for the National Finals Rodeo (1988-92, 1994-2000), and he competed at such a high level that 11 of those times he finished among the world top 10 and was seven times in the top five. In addition to those two gold buckle years, he was reserve world champion in 1992 to his brother, Billy Etbauer.
The three brothers, Robert, Billy and Dan, along with their friend Craig Latham – often referred to as "the fourth Etbauer" – dominated the event through the 1990s. Over an 11-year span, Robert and Billy accounted for seven world championships.
They traveled together, pooled their resources and thought of themselves as a team. They performed as a team in much the same way that the 1950s Yankees or 1960s Packers did. Together they accounted for 52 NFR qualifications, including 10 for Dan Etbauer and nine for Latham.
The Etbauers are the only set of three brothers to qualify for the NFR in the same roughstock event in the same year – and they did it eight times.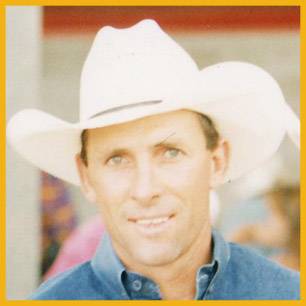 World Championships: 2
Saddle Bronc Riding: 1990, 1991
National Finals Rodeo Average Champion
Saddle Bronc Riding: 1991, 1995
Rookie of the Year:
Saddle Bronc Riding: 1985
RAM Circuit Year-End Champion
Great Lakes Circuit:
Saddle Bronc Riding: 1985
Prairie Circuit:
Saddle Bronc Riding: 1988, 1997, 2002
Born: July 10, 1961 in Huron, South Dakota
Joined the PRCA: 1985
NFR Qualifications: 12
Buffalo Bill Rodeo / North Platte, NE
Saddle Bronc Riding: 1995, 1996 (tie), 1997 (tie)
Deadwood Days of '76 Rodeo / Deadwood, SD
Saddle Bronc Riding: 1988
Dodge City Roundup / Dodge City, KS
Saddle Bronc Riding: 1986 (tie), 1997, 2000
Ellensburg Rodeo / Ellensburg, WA
Saddle Bronc Riding: 1990, 1998
Fort Worth Stock Show & Rodeo / Fort Worth, TX
Saddle Bronc Riding: 2000 (tie)
Grand National Stock Show & Rodeo / San Francisco, CA
Saddle Bronc Riding: 1999
Guymon Pioneer Days Rodeo / Guymon, OK
Saddle Bronc Riding: 1990, 2000
Iowa's Championship Rodeo / Sidney, IA
Saddle Bronc Riding: 2000
La Fiesta de los Vaqueros Rodeo / Tucson, AZ
Saddle Bronc Riding: 1987, 1990
National Western Stock Show & Rodeo / Denver, CO
Saddle Bronc Riding: 1992
Pendleton Round-Up / Pendleton, OR
Saddle Bronc Riding: 1987
Red Bluff Round-Up / Red Bluff, CA
Saddle Bronc Riding: 1991
Redding Rodeo / Redding, CA
Saddle Bronc Riding: 1990, 1995
World's Oldest Rodeo Prescott Frontier Days / Prescott, AZ
Saddle Bronc Riding: 1991 (tie), 1994