Saddle Bronc Riding • Inducted 2005
Joe Marvel was born into ranching, horses and riding. He grew up on his family ranch in Battle Mountain, Nevada. While working on the 530,000-arce family ranch, the Marvel boys – Joe, Mike and Pete – managed to develop a style for sticking to their horses that later served them well in the rodeo arena. Marvel's father, Tom, supplied he and his brothers with an endless supply of broncs and was always there with encouragement. While his mother, Rosita, said endless prayers for Joe, Mike and Pete. Marvel looked up to, learned from, and respected his brother, Mike, who was the first of the three Marvel brothers to become a Rodeo Cowboys Association bronc rider.
Marvel had an illustrious high school rodeo career, which included the 1973 National High School Rodeo Association Saddle bronc riding title. He followed that up in 1974 by qualifying for his first National Finals Rodeo at the age of 19 and earning the NFR average saddle bronc riding championship the same year. Marvel was considered a highly stylistic bronc rider who distinguished himself from other contestants by his consistent and classic spurring style.
Marvel qualified for the NFR five times in his career and won the 1978 World Saddle Bronc Riding Title. As of 2005, Marvel remains the first and only Nevada cowboy to win a gold buckle in bronc riding. A family man at heart, Marvel never liked the travel involved in rodeo, but he did enjoy winning and the friends he made. Marvel married Camma Dawn Logan in 2008. Their combined family has six children – Sam, Mary Alice, Jake, Luke, Caleb, and Whitney. In keeping with tradition, Marvel's grandkids are now involved in rodeo.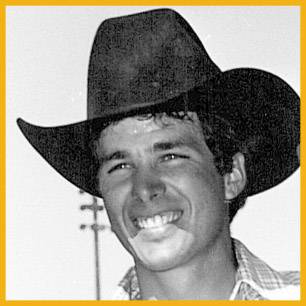 World Championships: 1
Saddle Bronc Riding: 1978
National Finals Rodeo Average Champion
Saddle Bronc Riding: 1974, 1978
RAM Circuit Year-End Champion
Wilderness Circuit:
Saddle Bronc Riding: 1977, 1981
Born: June 26, 1955 in Battle Mountain, Nevada
NFR Qualifications: 5
California Rodeo Salinas / Salinas, CA
Saddle Bronc Riding: 1980
Cheyenne Frontier Days / Cheyenne, WY
Saddle Bronc Riding: 1981
Clovis Rodeo / Clovis, CA
Saddle Bronc Riding: 1977
Fort Worth Stock Show & Rodeo / Fort Worth, TX
Saddle Bronc Riding: 1976, 1978
Grand National Stock Show & Rodeo / San Francisco, CA
Saddle Bronc Riding: 1978
Ogden Pioneer Days Rodeo / Ogden, UT
Saddle Bronc Riding: 1981
Pendleton Round-Up / Pendleton, OR
Saddle Bronc Riding: 1979
Reno Rodeo / Reno, NV
Saddle Bronc Riding: 1977, 1983 (tie), 1984
Snake River Stampede / Nampa, ID
Saddle Bronc Riding: 1976