Saddle Bronc Riding • Inducted 2007
Coaching from Bill Smith, Mel Hyland and later from his brother-in-law 1977 World Saddle Bronc champion J.C. Bonine got Bud Munroe off on the fast track to a career in rodeo. It was talent and hard work that turned him into one of the most respected saddle bronc riders of his era.
The Billings, Mont., cowboy earned a spot in the National Finals Rodeo 12 consecutive years (1977-88), with eight finishes among the top five in the world. He was second in the World Championship standings in 1978 and 1980, before breaking through to claim the gold buckle over fellow Hall of Fame inductee Clint Johnson in 1986 becoming the first saddle bronc rider to earn $100,000 in a single season along the way.
Munroe compete in bareback and saddle bronc riding during his four years at Montana State University while earning a degree in agricultural business. He won the National Intercollegiate Rodeo Association saddle bronc title in 1975 and was second in the all-around, helping the Bobcats capture the NIRA team championship.
Devoted to the development of his sport, Munroe has served as PRCA saddle bronc director (1980-81), on the PRCA Grievance Committee (2003-07) and on the PRCA Properties Board for nearly 20 years. He is also a long-time committeeman of the Heart O'Texas Rodeo in Waco. His wife, Jimmie, is a former world champion barrel racer who served as president of the WPRA for 13 years and was the first chairwoman of Professional Women's Barrel Racing (PWBR), a subsidiary of the PRCA.
A native of Lewistown, Mont., Munroe was earlier inducted into the Montana Pro Rodeo Hall and Wall of Fame, Texas Cowboy Hall of Fame and the Montana State University Athletic Hall of Fame.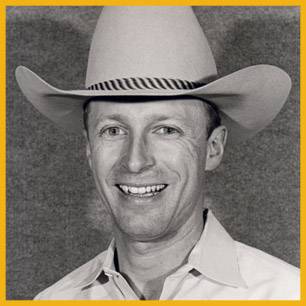 World Championships: 1
Saddle Bronc Riding: 1986
RAM Circuit Finals Rodeo Champion
Saddle Bronc: 1987 (tie)
RAM Circuit Year-End Champion
Texas Circuit:
Saddle Bronc: 1982, 1983, 1986, 1987
Born: January 12, 1952 in Lewistown, Montana
Died: April 9, 2022 in Waco, Texas
NFR Qualifications: 12
Black Hills Roundup / Belle Fourche, SD
Saddle Bronc Riding: 1978 (tie)
Buffalo Bill Rodeo / North Platte, NE
Saddle Bronc Riding: 1980, 1982
Clovis Rodeo / Clovis, CA
Saddle Bronc Riding: 1981, 1984
Deadwood Days of '76 Rodeo / Deadwood, SD
Saddle Bronc Riding: 1978
Dodge City Roundup / Dodge City, KS
Saddle Bronc Riding: 1981, 1984, 1985
Ellensburg Rodeo / Ellensburg, WA
Saddle Bronc Riding: 1977, 1978, 1987 (tie)
Fort Worth Stock Show & Rodeo / Fort Worth, TX
Saddle Bronc Riding: 1983, 1985
Grand National Stock Show & Rodeo / San Francisco, CA
Saddle Bronc Riding: 1980 (tie)
Greeley Stampede / Greeley, CO
Saddle Bronc Riding: 1977 (tie)
La Fiesta de los Vaqueros Rodeo / Tucson, AZ
Saddle Bronc Riding: 1979, 1983
Red Bluff Round-Up / Red Bluff, CA
Saddle Bronc Riding: 1986
Redding Rodeo / Redding, CA
Saddle Bronc Riding: 1978
Rowell Ranch Rodeo / Hayward, CA
Saddle Bronc Riding: 1986
San Antonio Stock Show & Rodeo / San Antonio, TX
Saddle Bronc Riding: 1987
Snake River Stampede / Nampa, ID
Saddle Bronc Riding: 1983