Saddle Bronc Riding • Inducted 2011
Known among his peers as the "Shetland Stud" or the "Banty Cowboy," Burel Mulkey had strength that belied his 5-6, 165 pound stature, allowing him to excel at a time when saddle bronc riders had to stay on for 12 seconds (10 indoors) to earn a score.
Mulkey was one of the sport's most colorful performers in the 1930s with his love of pranks, his trademark black satin shirt and his penchant for going all out on every ride. He won the 1937 world saddle bronc riding championship and was do dominant the following year that he not only repeated his saddle bronc riding triumph, but was named world all-around champion because his earnings surpassed all of the mutli-event contestants.
He had wins at virtually every major venue of the port in his day, including Madison Square Garden; Fort Worth, Texas; Reno, Nev,; Salinas, Calif.;  Los Angeles and that saddle bronc riding Mecca, Deadwood, S.D.
Mulkey was one of the 61 cowboys who stepped forward at Boston Garden in 1936 to sign the petition demanding fair treatment that led to creation of the Turtles' Cowboy Association, precursor to the current-day Professional Rodeo Cowboys Association. He is the seventh of those Founding Fathers to achieve induction into the ProRodeo Hall of Fame based on their achievements in the arena.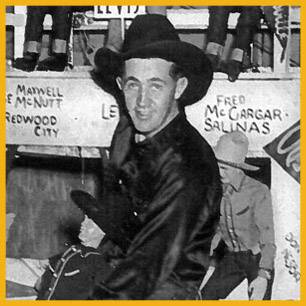 World Championships: 3
All-Around: 1938
Saddle Bronc Riding: 1937, 1938
Born: May 25, 1904 in Clyde, Idaho
Died: November 20, 1982 in Lake Isabella, California
California Rodeo Salinas / Salinas, CA
All-Around: 1939
Saddle Bronc Riding: 1939
Deadwood Days of '76 Rodeo / Deadwood, SD
Saddle Bronc Riding: 1939
Iowa's Championship Rodeo / Sidney, IA
Saddle Bronc Riding: 1940, 1942
Reno Rodeo / Reno, NV
All-Around: 1940
Saddle Bronc Riding: 1939, 1940