Saddle Bronc Riding • Inducted 2012
One of the most popular and iconic rodeo cowboys of his generation, five-time World Champion Saddle Bronc Rider Billy Etbauer is as much respected for his go-for-broke style and his unfailing humility as he is for the string of victories that covered parts of four decades.
The middle brother of three world-class bronc riders, Billy Etbauer qualified for the National Finals Rodeo in his second year as a professional in 1989 and went on to make the field a record 21 consecutive years, win an NFR-record 51 rounds and earn more than $1 million at that season-ending championship alone.
He set the NFR record with a 93-point ride on Kesler Championship Rodeo's Cool Alley in 2003, then tied it a year later on a 10th-round ride on the same horse that clinched the last of his five gold buckles and made him – at 41 years, 11 months – the oldest roughstock world champion in rodeo history.
Etbauer followed Trevor Brazile as the second cowboy to surpass $3 million in career earnings and was the first to reach that figure in a single event, finishing with $3,015,377 in total earnings. His five saddle bronc riding world championships is just one short of the event record shared by Casey Tibbs and Dan Mortensen.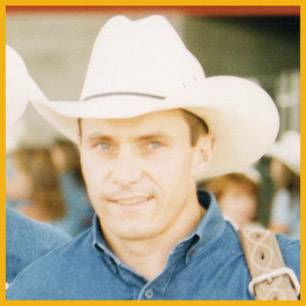 World Championships: 5
Saddle Bronc Riding: 1992, 1996, 1999, 2000, 2004
National Finals Rodeo Average Champion
Saddle Bronc Riding: 1992, 1996
RAM Circuit Finals Rodeo Champion
Saddle Bronc Riding: 1992
RAM Circuit Year-End Champion
Prairie Circuit:
Saddle Bronc Riding: 1991, 1992
Born: January 15, 1963 in Huron, South Dakota
Joined the PRCA: 1988
NFR Qualifications: 21
Click here for additional career information.
California Rodeo Salinas / Salinas, CA
Saddle Bronc Riding: 2002
Cheyenne Frontier Days / Cheyenne, WY
Saddle Bronc Riding: 2009
Clovis Rodeo / Clovis, CA
Saddle Bronc Riding: 2002
Cody Stampede / Cody, WY
Saddle Bronc Riding: 2007
Deadwood Days of '76 Rodeo / Deadwood, SD
Saddle Bronc Riding: 1999 (tie)
Dodge City Roundup / Dodge City, KS
Saddle Bronc Riding: 1991, 1993, 1998, 2005, 2006, 2008, 2009
Ellensburg Rodeo / Ellensburg, WA
Saddle Bronc Riding: 1991
Fort Worth Stock Show & Rodeo / Fort Worth, TX
Saddle Bronc Riding: 1996, 1997, 1999
Grand National Stock Show & Rodeo / San Francisco, CA
Saddle Bronc Riding: 2000
Greeley Stampede / Greeley, CO
Saddle Bronc Riding: 1996, 2009
Guymon Pioneer Days Rodeo / Guymon, OK
Saddle Bronc Riding: 1992, 2002, 2008 (tie)
Iowa's Championship Rodeo / Sidney, IA
Saddle Bronc Riding: 2005
La Fiesta de los Vaqueros Rodeo / Tucson, AZ
Saddle Bronc Riding: 1992 (tie), 1996, 2004, 2005 (tie), 2008
National Western Stock Show & Rodeo / Denver, CO
Saddle Bronc Riding: 1990, 2000 (tie), 2006
Ogden Pioneer Days Rodeo / Ogden, UT
Saddle Bronc Riding: 2004
Pendleton Round-Up / Pendleton, OR
Saddle Bronc Riding: 1994
Red Bluff Round-Up / Red Bluff, CA
Saddle Bronc Riding: 2000
Reno Rodeo / Reno, NV
Saddle Bronc Riding: 1991, 2004
San Antonio Stock Show & Rodeo / San Antonio, TX
Saddle Bronc Riding: 1996, 1997, 2000
Snake River Stampede / Nampa, ID
Saddle Bronc Riding: 1999
Spanish Fork Fiesta Days Rodeo / Spanish Fork, UT
Saddle Bronc Riding: 1999, 2004
West of the Pecos Rodeo / Pecos, TX
Saddle Bronc Riding: 1992