Rodeo Notables • Inducted 2006
*Inducted as a pair with Mildred Farris.
John & Mildred Farris have been life-long supporters of the PRCA.
Mildred is a five-time Wrangler National Finals Rodeo secretary, a five-time Wrangler NFR assistant secretary and a 15-time Wrangler NFR timer. She has been named PRCA Secretary of the Year eight times and served on the PRCA Contract Personnel Executive Council from 1988-2002. Mildred, a PRCA member since 1960, carried the American flag at the NFR opening ceremony in Oklahoma City, Okla., for 17 years and carried the flag at the 1997 NFR in Las Vegas for the Cowgirl Hall of Fame opening. She qualified for the NFR 12 times as a barrel racer and served as the GRA/WPRA director, vice-president and president from 1965-71.
Mildred, who live with John in Addington, Okla., was inducted into the Sul Rodd Rodeo Hall of Fame in 1994 and was the WPRA Woman of the Year in 1996 and WPRA Secretary of the Year in 1998. In addition, she served as secretary for the Dodge Texas Circuit Finals for 17 years.
John, a PRCA member since 1959, competed in bareback riding, saddle bronc riding, bull riding and tie-down roping from 1959-75. John has worked every Wrangler NFR in on capacity or another since 1967. John has staked the barrel racing pattern at the Wrangle NFR since 1967, worked as the NFR saddle horse boss for two years, served as the assistant roughstock event chute boss on year and as the timed-event chute boss for 17 years. He was the Texas Circuit Man of the Year in 1997 and has worked as a chute boss for the Dodge Texas City Circuit Finals for 20 years. John, received the WPRA's Outstanding Individual Award in 1999 and won the Texas Circuit Best Footing Award in 2001.
John & Mildred were inducted into the Texas Rodeo Cowboy Hall of Fame in Belton, Texas in 2004.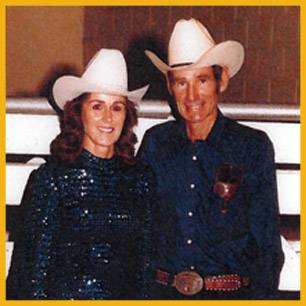 WPRA Outstanding Individual Award
1999
Born: 1928 in Addington, Oklahoma
Joined the PRCA: 1959