Livestock • Inducted 2011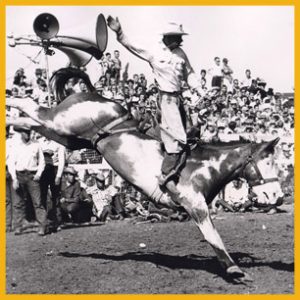 War Paint, the product of a registered Quarter Horse stud and a wild pinto mare, was raided by Orie Summers on the Klamath Indian Reservation in Oregon and became the greatest saddle bronc horse of his generation.
As part of the Christensen Brothers string, War Paint was voted the PRCA Bucking Horse of the Year in each of the first three years the honor was bestowed. He wont it outright in 1956-57 and shared the award with Harry Knight's Joker in 1958.
In his one appearance at the NFR at the first-ever Finals in 1959, War Paint was ridden by Jim Tescher and Les Johnson, helping them to finish 1-2 in the average race. Over the course of a career that lasted nearly two decades before being retired in 1966, War Paint had nearly a 90-percent buck–off rate.
"If they got past those first three or four jumps, they'd ride him once in a while," said Bobby Christensen Jr. "He came out so high and came down so hard those first three jumps; not many of them got past those."
War Paint died October 1975 and a taxidermist preserved him for display at the Pendleton (Ore.) Round-Up Museum.
Stock of the Year
1956, 1957, 1958