Livestock • Inducted 2008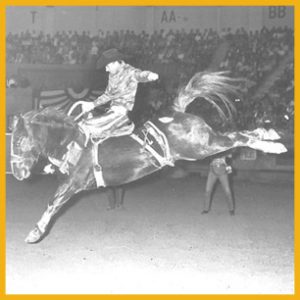 The pride of the Oral Zumwalt rodeo string out of Missoula, Mont., Trails End was the 1959 Bucking Horse of the Year and was three times recognized as the top saddle bronc of the national Finals Rodeo in Dallas (1959-61).
The chunky 15-hand, 1,200-pound sorrel gelding appeared in 11 NFRs (1959-66, 1968-69 and 1971) and put the best riders of the era in the dirt, including ProRodeo Hall of Fame inductees Casey Tibbs, Larry Mahan and Guy Weeks.
In his greatest season of 1959, Trails End was ridden just four times in 13 tries and three of the cowboys who made it to the eight-second whistle were rewarded with a first-place buckle. In 1960, he was named top bucking horse at rodeos in Denver, Dickinson, N.D. and Sentinel Butte, N.D., in addition to the NFR.
Zumwalt acquired the horse from sheepherder Selman Eldridge for a rodeo ticket, $125 (if the horse bucked) and the promise that Eldridge would deliver the horse to Missoula. Zumwalt was so impressed with the horse's fast-bucking style in the test at his KO Ranch that he immediately changed the horse's name from Dexter to Trails End.
When Zumwalt dies in 1964, KO Ranch was auctioned off and Trails End was purchased by Big Bend Rodeo Company of Wilbur, Wash., for $4,350, which was reportedly the highest price paid for a horse in ProRodeo history at that point.
Trails End died at 28 years old on Feb. 11, 1980 and is buried at the National Cowboy & Western Heritage Museum in Oklahoma City.
Top NFR Stock of the Year
1959, 1960, 1961