Livestock • Inducted 2007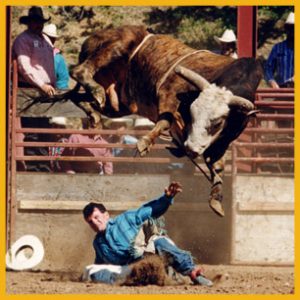 Skoal Pacific Bell was raised on the Russell Ranch in Folsom, Calif., and earned the name Pacific Bell shortly after he became a bucking bull at age 4 when it became apparent that he liked to throw back his head while bucking as if he wanted to "reach out and touch someone."
With no set bucking pattern, the 1, 750-pound Brangus was always a handful, the only bull ever named PRCA Bull of the Year three consecutive years (1988-90), by vote of the top 30 PRCA bull riders. He was also selected as the top bull at the 1987 Nationals Finals Rodeo his first year in PRCA rodeo after unceremoniously dumping Dale Johansen and Rickey Lindsey into the dirt at Las Vegas.
Over a four-year span at total of about 150 outings Skoal Pacific Bell was ridden to the Whistle just five times, bucking off such future ProRodeo Hall of Fame rider as Ty Murray, Jim Sharp, Tuff Hedeman and Lane Frost.
When Sharp stayed on Skoal Pacific Bell for an 85 point ride at the 1988 NFR, it paved the way for the first of Sharp's two world championships.
He's a bull that's quick and kicks really high and spins real fast," Sharp later told reporters. "He just bucks hard. It's a combination of everything that makes him so good. He does it all."
Stock of the Year
1988, 1989, 1990
Top NFR Bucking Stock
1987