Livestock • Inducted 2012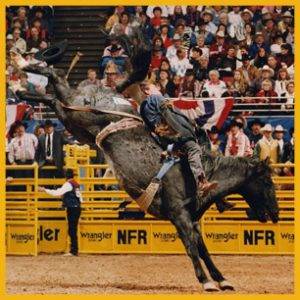 Khadafy Skoal was the first Wyoming-born-and-raised horse to be voted PRCA Bareback Horse of the Year in 1990 and went on to win the award twice more for Powder River Rodeo in 1995 and 1996. Starting in 1989, the blue roan gelding went to the Wrangler National Finals Rodeo 16 consecutive years and was voted Horse of the NFR in 1994, 1996 and 1999.
He also competed in 15 Dodge National Circuit Finals Rodeos (being named top bareback horse at the DNCFR a record five times) and 12 Mountain States Circuit Finals Rodeos before being retired with his lifelong friend Skoal's Frontier at the 2004 Wrangler NFR to the grassy fields of Riverton, Wyo.
Powder River Rodeo owners Hank and Lori Franzen credit Khadafy Skoal with putting their company on the map, helping a relatively new stock contracting firm establish itself in the PRCA after buying him from Ray Sanborn in 1989 as a 6-year-old.
"He was electric, he was different, he was amazing, and people wanted to see him," Lori Franzen said. "Hank and I owe an enormous amount of our success to him."
Stock of the Year
1990, 1995, 1996
Top NFR Stock of the Year
1994, 1996, 1999