Contract Personnel • Inducted 2008
*Inducted as a pair with Leon Adams.
For parts of five decades, the husband-and-wife team of Leon and Vicki Adams entertained rodeo fans all over the world with their horsemanship, innovative flair and skill in training animals. Leon Adams received the PRCA Specialty Act of the Year Award in 1982, followed two years later by Vicki. They twice won the award together, in 1987 and 1997, and they were nominated for the award 19 consecutive years. Vicki was a professional horseman, trick rider and Roman rider who learned her craft while growing up on the Yakima Indian Reservation in Toppenish, Wash. She was an alternate Miss Indian America in 1969, a year before she and Leon were married. From 1991 to 2004, Vicki presented the American Flag at the National Finals Rodeo and performed her famous dancing horses at the NFR six times. Apart from appearing at major rodeos all across the United States, the Adams' have performed in France, Japan, Finland, Mexico and Canada. Together they have trained horses for appearances in several feature films, including Rock Island Trail and Buffalo Girls. Leon Adams retired from the arena in 2005 and Vicki one year later.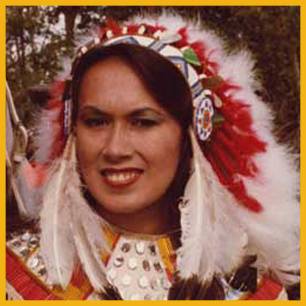 Specialty Act of the Year
1984, 1987, 1997
Born: May 13, 1951 in Toppenish, Washington