Contract Personnel • Inducted 1997
*Inducted as a pair with Bobby Clark.
The Clarks began their rodeo career as competitors — both as tie-down ropers, and Gene in steer wrestling and Bobby in bareback riding. Gene, born March 27, 1926, in Seminole, Okla., quickly moved to the contract side of the sport as a bullfighter, complete with Spanish-style cape. Bobby, born March 24, 1930, in Seminole, Okla., joined the act shortly after high school, clowning and working the barrel and bullfighting. Gene and Bobby worked for all the top contractors and at all the big rodeos for more than 30 years. The Clarks were familiar sights at Madison Square Garden, Boston Garden, Houston, Ft. Worth, Texas, and Pendleton, Ore. They also performed at the Calgary Stampede, as well as in Mexico and Havana, Cuba. The Clarks' creative acts were new, innovative and thrilled audiences. Fan favorites included the disappearing act, Cannon Capers; the hearse act; the magical box; and Lord Beaverbrook's Roman Riding Mules.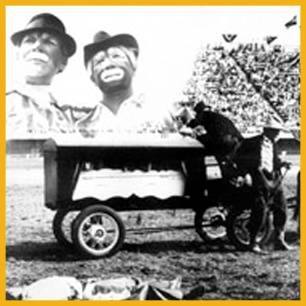 Born: March 27, 1926 in Seminole, Oklahoma
Died: in Redmond, Oregon