Contract Personnel • Inducted 2007
While never too keen about being around rodeo stock, Dorothy Apodaca loved rodeo people and devoted 22 years of her life (1948-70) to traveling around the country in their service as a rodeo secretary.
Traveling six months each year and about 30,000 road miles Apodaca took responsibility for handling entries and writing checks for cowboys at some of the biggest events in professional rodeo.
Apodaca served as rodeo secretary for 11 or more years at Houston, San Antonio, San Angelo, Texas, Pueblo, Colorado, and Omaha, Nebraska, along with lengthy turns at Denver and Fort Worth. She was there for the opening of the Houston Astrodome in 1966 and when she retired, in 1970, the Houston rodeo committee put her name in lights on the Astrodome scoreboard and honored her with a presentation on the arena floor.
During much of her career as a rodeo secretary, she traveled with her husband, Jim Apodaca, who competed in steer wrestling events and worked as a pickup man, so she understood about the hardships and the injuries endured by rodeo cowboys.
"Most of them are settled family men and rodeo is their business," Apodaca once told a reporter. "They take their work very seriously and, if they've had a bad day, they don't come to me, or anyone else, crying about it. Instead they'll come into my office and kid around and laugh the whole thing off. I'm gruff with them all, laugh with all of them and kid around."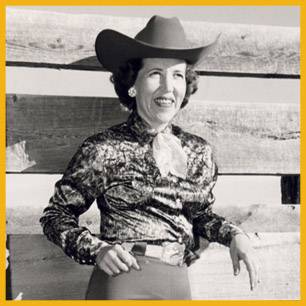 Born: September 23, 1923 in Salida, Colorado
Died: March 16, 1992 in Casper, Wyoming