Bull Riding • Inducted 2007
Ronnie Rossen once told a reporter that "I just went out there with the idea of 'Don't let go' that's probably why I have so many scars on my face, I never let go when I should have."
Scars or no, it was Rossen's brutal, unrelenting approach to his craft that made him one of the great bull riders of his era with eight appearances at the National Finals Rodeo between 1959 and 1968.
Going against such future Hall of Famers as Harry Tompkins, Freckles Brown and Larry Mahan, Rossen won the gold buckle in 1961 and 1966 and missed a third world championship by slightly more than $1,000 to Mahan in 1965. He won the NFR average title twice, in 1964 and 1965, and virtually every major rodeo in the country.
The native of Ogallala, Nebraska, established a reputation for toughness at his very first NFR when he suffered a broken jaw when a bull hit him in the face, but just had his jaw wired shut and stayed in the competition earning cash in the final round.
On his was to his first gold buckle in 1961, Rossen became the first man in six years to ride the bull Speck, an accomplishment that would be immortalized in a bronze sculpture by artist R.F. Rains.
Rossen rode bulls for 40 year, to the very end of his life. A seven-time National Old Timers Rodeo Association champion, he died at a 1991 NOTRA event in Colorado, after a bull stepped on his chest. Rossen had dismounted after what would turn out to be the day's winning ride, but got caught underneath the bull and suffered such massive damage that he was dead an hour later, at the age of 54.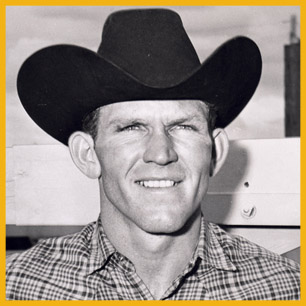 World Championships: 2
Bull Riding: 1961, 1966
National Finals Rodeo Average Champion
Bull Riding: 1964, 1965
Born: July 7, 1937 Ogallala, Nebraska
Died: August 16, 1991 Rocky Ford, Colorado
NFR Qualifications: 8
Black Hills Roundup / Belle Fourche, SD
Bull Riding: 1959, 1969, 1973
Cheyenne Frontier Days / Cheyenne, WY
Bull Riding: 1965, 1969
Deadwood Days of '76 Rodeo / Deadwood, SD
Bull Riding: 1961, 1964
Ellensburg Rodeo / Ellensburg, WA
Bull Riding: 1965
Greeley Stampede / Greeley, CO
Bull Riding: 1963
Guymon Pioneer Days Rodeo / Guymon, OK
Bull Riding: 1962
National Western Stock Show & Rodeo / Denver, CO
Bull Riding: 1964, 1966
Ogden Pioneer Days Rodeo / Ogden, UT
Bull Riding: 1961
Pendleton Round-Up / Pendleton, OR
Bull Riding: 1962