Bareback Riding • Inducted 2013
Chuck Logue was a major figure in his era, qualifying for the National Finals Rodeo 11 times in 12 seasons (1982-87, 1989-93), winning the world championship in 1990 and the NFR average title twice (1985 and 1990).   Over the years, Logue earned a reputation for riding best under pressure for big money. Never was that put more to the test than at the 1990 NFR in Las Vegas when he had a long spur ride aboard Ike Sankey's WindSong for 75 points in the 10th round. He broke a three-way tie for the average lead that allowed him to claim the gold buckle by more than $11,000 over Clint Corey.
Logue was 18 years old when he was named the PRCA Bareback Riding Rookie of the Year in 1979, just a year after winning the Texas High School championships in bareback riding, bull riding and the all-around. He made his NFR debut in Oklahoma City in 1982, two days after his 22nd birthday.
He won major titles all over North America, including Fort Worth, Texas; Salinas, California; Houston, Texas; and Calgary, Alberta. Logue and his older brother, Bob, started learning how to rodeo on their family's Texas ranch when they were about 9 years old and traveled together for much of their careers.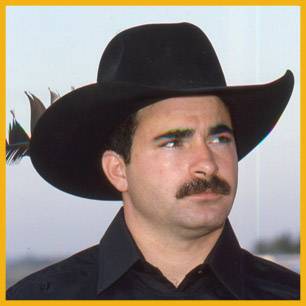 World Championships: 1
Bareback Riding: 1990
National Finals Rodeo Average Champion
Bareback Riding: 1985, 1990
Rookie of the Year
Bareback Riding: 1979
RAM Circuit Finals Rodeo Champion
Bareback Riding: 1994
RAM Circuit Year-End Champion
Texas Circuit:
Bareback Riding: 1985, 1987, 1989, 1990, 1993
Born: December 2, 1960 in Upland, California
Joined PRCA: 1979
NFR Qualifications: 11
California Rodeo Salinas / Salinas, CA
Bareback Riding: 1991
Cody Stampede / Cody, WY
Bareback Riding: 1990
Fort Worth Stock Show & Rodeo / Fort Worth, TX
Bareback Riding: 1990
Ogden Pioneer Days Rodeo / Ogden, UT
Bareback Riding: 1995
Red Bluff Round-Up / Red Bluff, CA
Bareback Riding: 1985 (tie)
Redding Rodeo / Redding, CA
Bareback Riding: 1999
Rowell Ranch Rodeo / Hayward, CA
Bareback Riding: 1993, 1999
San Antonio Stock Show & Rodeo / San Antonio, TX
Bareback Riding: 1986
West of the Pecos Rodeo / Pecos, TX
Bareback Riding: 1984
World's Oldest Rodeo Prescott Frontier Days / Prescott, AZ
Bareback Riding: 1985 (tie), 1994