All-Around • Inducted 2014
Pete Grubb was just the second cowboy in ProRodeo history – after Clay Carr – to win world championships at both ends of the arena. The Salmon, Idaho, cowboy won the bareback riding championship in 1938 and the team roping title (as a heeler) in 1940.
He was the first cowboy to win both the bareback riding and saddle bronc riding in the same year at New York's Madison Square Garden, the rodeo that was then considered the world championship event. He managed that parlay in 1934 and went on to win the saddle bronc riding at Boston Garden that same year.
Grubb won the bareback riding at Madison Square Garden again in 1935-36 and remained one of the sport's top competitors into the 1940s, winning titles at many of the sport's premier events, including California Rodeo Salinas and the Southwestern Exposition and Livestock Show in Fort Worth.
He would later serve as a rodeo judge and produced rodeos in the Southwest for several years in the late 1950s and early '60s.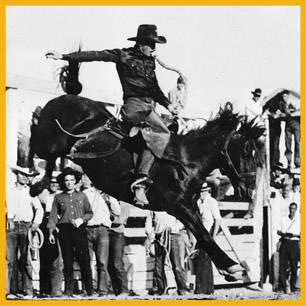 World Championships: 2
Bareback Riding: 1938
Team Roping: 1940
Born: October 26, 1913 in May, Idaho
Died: February 12, 1969 in La Honda, California
California Rodeo Salinas / Salinas, CA
All-Around: 1941
Saddle Bronc Riding: 1941
Ellensburg Rodeo / Ellensburg, WA
Saddle Bronc Riding: 1940
Reno Rodeo / Reno, NV
Team Roping: 1946