All-Around • Inducted 2000
Joe Beaver grew up dreaming of being a professional rodeo cowboy. Beaver, born Oct. 13, 1965, in Victoria, Texas, began his roping career at the age of 5, roping goats from the back of a Shetland pony in his family's practice pen. By 15, Beaver was making waves through the roping world. In 1985 at the age of 20, Beaver won the PRCA Resistol Rookie of the Year award and entered the National Finals Rodeo (NFR) in Las Vegas as the youngest tie-down roper. After 10 days of intense competition, he left Las Vegas with his first world title, and Thomas & Mack Arena became known as "the house that Joe built." Beaver would return to Las Vegas many more times to collect four additional world tie-down roping titles and three world all-around titles. When injuries forced him out of competition for most of 1999, Beaver still made the trip to the NFR – this time as a television commentator for ESPN. He returned in 2000 to win his third all-around title, rallying from $75,000 behind. Beaver, still a force in the PRCA, has qualified for 22 Wrangler NFRs.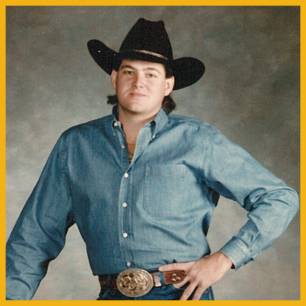 World Championships: 8
All-Around: 1995, 1996, 2000
Tie-Down Roping: 1985, 1987, 1988, 1992, 1993
National Finals Rodeo Average Champion
All-Around: 1997, 2000, 2006
Tie-Down Roping: 1987, 1988, 1992, 1996
Rookie of the Year
Overall and Tie-Down: 1985
RAM Circuit Year-End Champion
Texas Circuit:
All-Around: 1996
Tie-Down Roping: 1990, 1993
Born: October 13, 1965 in Victoria, Texas
Join PRCA: 1985
NFR Qualifications: 22
Click here for more career information.
Deadwood Days of '76 Rodeo / Deadwood, SD
Tie-Down Roping: 1992
California Rodeo Salinas / Salinas, CA
Tie-Down Roping: 1988
Clovis Rodeo / Clovis, CA
Tie-Down Roping: 1985
Cody Stampede / Cody, WY
Team Roping: 2002 (tie)
Ellensburg Rodeo / Ellensburg, WA
All-Around: 1994, 1998
Team Roping: 2006
Tie-Down Roping: 1992, 1994, 1995
Fort Worth Stock Show & Rodeo / Fort Worth, TX
Tie-Down Roping: 1996
Grand National Stock Show & Rodeo / San Francisco, CA
All-Around: 1998
Tie-Down Roping: 1998 (tie)
Greeley Stampede / Greeley, CO
All-Around: 2008
Iowa's Championship Rodeo / Sidney, IA
Tie-Down Roping: 1985
La Fiesta de los Vaqueros Rodeo / Tucson, AZ
All-Around: 1997, 2000, 2009
Tie-Down Roping: 1985
National Western Stock Show & Rodeo / Denver, CO
Tie-Down Roping: 1995
Ogden Pioneer Days Rodeo / Ogden, UT
Team Roping: 1998
Pendleton Round-Up / Pendleton, OR
All-Around: 2006
Team Roping: 2006 (tie)
Tie-Down Roping: 2006
San Antonio Stock Show & Rodeo / San Antonio, TX
All-Around: 1995, 2006
Team Roping: 1993
Snake River Stampede / Nampa, ID
All-Around: 1995, 1997, 2003, 2004
Tie-Down Roping: 1997, 2001, 2003
Spanish Fork Fiesta Days Rodeo / Spanish Fork, UT
Tie-Down Roping: 1993
Team Roping: 1998
West of the Pecos Rodeo / Pecos, TX
All-Around: 2004